Black and white Instagram selfie challenge sheds light on femicide in Turkey
Women have taken to posting a photo of themselves with a black and white filter on Instagram, but few realized the now global trend initially sought to shed light on the rise of violence against women in Turkey.
The trend has sparked calls for change, with over six million users using the hashtag "challenge accepted" under their black and white photo.
For all the latest headlines follow our Google News channel online or via the app.
The challenge urged users to post a black and white picture of themselves as a way to stand in solidarity with murdered or missing Turkish women whose pictures are displayed in black and white on the news.
The movement started after 27-year-old Pinar Gultekin was strangled to death and partially burned by her ex-boyfriend in the south-western city of Mugla on July 16.
Five days later Cemal Metin Avci admitted to the crime and guided police to the garbage bin where her body was dumped and covered with concrete.
Also read: Murder of Jordanian woman by father sparks sit-in after video evidence goes viral
Protests have been sweeping the nation since July 23, with hundreds of men and women urging the Turkish government to uphold the Istanbul Convention amid talks it would be withdrawing from the agreement.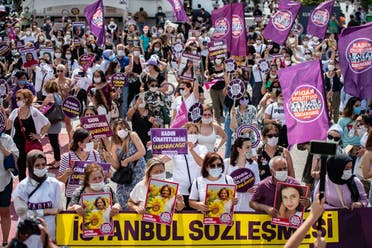 The Istanbul Convention is a human rights treaty of the Council of Europe against violence against women and domestic violence that was signed in 2011 by European Union countries and 45 other states in Istanbul.
Turkey has seen a significant rise of gender-based violence since the coronavirus pandemic began, which has left dozens of women trapped in their homes with their abusers.
In the first six months of 2020, there has been a total of 172 femicides in the country, according to data collected by the Turkish campaign group 'We Will Stop Femicide' based on news reports and testimonies from victims' families. Femicide is a sex-based hate crime, typically carried out against females.
In 2019, the group recorded 416 cases of women being murdered, most of whom were killed by partners, former boyfriends, or close relatives.
Global outreach
The Instagram challenge quickly picked up around the world, with hundreds of women posting pictures of themselves and urging other women to do the same as a form of empowerment.
The American University's Turkish Cultural Club in Washington and dozens of Turkish women also urged users to learn about the origin of the movement and call for change.
American actress Sara Hyland took part in the challenge by sharing information about the increase of violence against women in Turkey.
"This will be my challenge accepted post. I LOVE seeing women supporting women and, as you know, I am the biggest fan of us coming together to lift each other up. I now know there are many challenges that include women posting B&W pictures to support women's rights. One origin, however, hasn't been talked about as much, and that is the tragedy of the femicide occurring in Turkey," Hyland wrote.
COVID-19 and gender-based violence
According to UN Women, emerging data shows that violence against women and girls – particularly domestic violence – has increased globally as the pandemic forces hundreds to be stuck at home with their abusers.
"As stay-at-home orders expand to contain the spread of the virus, women with violent partners increasingly find themselves isolated from the people and resources that can help them," UN Women said in their report titled COVID-19 and ending violence against women and girls.
Last week, the gruesome murder of a Jordanian woman at the hands of her father sparked a sit-in in the capital Amman, as well as regional outcry for change across the Middle East.
In Europe, domestic violence helplines have reported a drastic increase in calls since the outbreak began, according to data collected by UN Women.
"We know lockdowns and quarantines are essential to suppressing COVID-19. But they can trap women with abusive partners. Over the past weeks as economic and social pressures and fear have grown, we have seen a horrifying global surge in domestic violence," the United Nations Secretary-General Antonio Guterres had said in April.
"Local support groups are paralyzed or short of funds. Some domestic violence shelters are closed; others are full. I urge all governments to make the prevention and redress of violence against women a key part of their national response plans for COVID-19," he added.
Read more:
Coronavirus: Domestic violence grows under Lebanon's lockdown
Coronavirus: Domestic abuse in Europe surges as lockdowns continue, says WHO