Timeline: Security incidents in Lebanon on the rise as economy worsens
In Lebanon, a series of security incidents have taken place as the country slides further into economic and political turmoil. The latest clashes that left one dead and two injured took place in the predominately Sunni area of Tariq al Jdideh. This last round of violence came on the heels of two other security incidents in the wake of the August 4 Port of Beirut explosion.
In the Tariq al Jdideh area, a populous area in central Beirut, men supporting the Dandashneh and Krambi families clashed on September 7, using rocket propelled grenades and Kalashnikovs.
"It started as a disagreement between two friends, and as usual for this area, it degenerated into an armed battle. The army only intervened hours later when one person from the Krambi family was killed," said Abou Mohamad, an area resident who spoke to Al Arabiya English without disclosing his last name.
For all the latest headlines follow our Google News channel online or via the app.
Al Arabiya English asked a military officer why locals had access to so many weapons and why the army had not done more to crack down on it.
"All of Lebanon is armed, we can't do much about it," he said.
Nearly two weeks before the Tariq al Jdideh incident, two people were killed on August 27 in the coastal area of Khaldeh, near Beirut, during clashes between Hezbollah and Amal supporters, both Shia groups, on one side and Sunni Arab tribes on the other.
The clashes took a sectarian turn after Hezbollah supporters attempted to hang banners for the Ashoura holiday in the town, as well as pictures of Salim Ayyash, the Hezbollah member who was sentenced in absentia by the Special Tribunal for Lebanon for his role in the assassination of Prime Minister Rafik Hariri.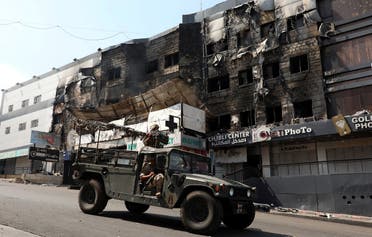 Three municipal guards were killed in the northern village of Kaftoun on August 22. Local media reported that the Joint Palestinian Security Force at the al-Beddawi refugee camp turned over Palestinian national Ehab Shanine, who was suspected to have been responsible. Two individuals – one Syrian and one Lebanese national – who were arrested for the crime had been previously arrested over terror-related offenses, local media reported. The police also attempted to arrest one individual who was killed after an explosive device detonated.
On August 9, another sectarian incident took place in Sidon, when the Sunni mufti of the southern city of Tyre was attacked by two individuals. While the media remained largely silent as to the identity of the attackers, a parliamentarian who spoke to Al Arabiya English on condition of anonymity said they were members of the Resistance Brigades, a paramilitary group affiliated with Hezbollah.
Multiple security incidents over the last few weeks are a byproduct of the state's worsening economic and political situation.
Read more:
Lebanon moves to reform sponsorship system, but abolishing kafala still far off
Lebanon's sinking economy set to plunge further after Beirut port explosion: Report
Lebanese officials hit by US sanctions over corruption, support to Hezbollah
"Lebanon has become a failed state," American University Professor of Political Science Dr. Hilal Khashan said.
The country is still grappling with the impact of the blast in early August that was set off when by 2,750 tonnes of ammonium nitrate unsafely stored at the port caught fire. Where officials knew of the presence of the chemicals, and port officials gave multiple warnings, successive governments failed to intervene or move the chemicals. Vast swaths of the capital were destroyed, at least 191 were killed, and over 6,500 others were injured. Now, the economy is expected to plummet further after the explosion.
After the explosion, Lebanese President Michel Aoun said a committee would investigate and report its findings within five days. While some arrests have been made, Lebanese are still waiting to know who was ultimately responsible for the destruction to life and property.
"The political class obviously doesn't give a d**n about the explosion," Khashan said.