Major fire in Beirut port triggers 'fear and panic' among already distressed citizens
A major fire erupted inside Beirut port on Thursday causing giant smoke clouds across the skyline and sparking fear among citizens already traumatized by the catastrophic explosion on August 4.
Around 1pm local time a fire started in a warehouse that contained tires and oil material. Shortly after smoke engulfed the surrounding area, videos and images of the fire went viral across social media.
According to the National News Agency, firefighter trucks of Beirut Fire Brigades and Civil Defense rushed to extinguish the fire accompanied by paramedic teams of the Lebanese Red Cross.
The fire broke out at the freezone area in a warehouse where tires and oil materials were stacked temporarily, due to logistical reasons after August's explosion, said a port official who requested anonymity.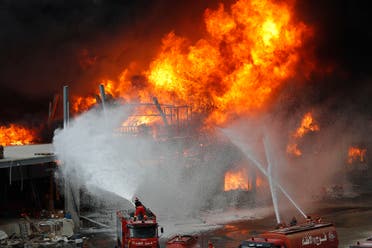 Within 15 minutes from the fire, giant black smoke clouds puffed over the areas of Gemmayze, Karantina, Al Saifi, Moudawwar and Mar Mekhayel that were previously wrecked and flattened to ground level by last month's explosion.
Reactions on the ground
Public sector employee Fatima Abed said her heartbeat rate went up to the maximum while in the taxi heading back home as friends shared fire footages on WhatsApp.
"I asked the driver to speed up before any explosion happens like that of August 4…I didn't want to go through the same frightening experience," Fatima told Al Arabiya English on Thursday.
An eyewitness, who works at the Beirut Port close to the warehouse where the fire started, was cited telling a Lebanese news channel that a number of welding workers had been operating close to the warehouse.
"The workers were using blowpipes to weld iron that was wrecked in the explosion. They were welding close to the tires and oil materials when the fire started. We freaked out when the fire happened and evacuated the area instantly," he said.
Renowned TV personality Rabia Zayyat lauded the bravery and gallant efforts of Civil Defence personnel as she published a video showing them extinguishing the fire on her Twitter.
Najah Adnan, an insurance company employee, told Al Arabiya English that her instant reaction was to open the windows of her office so that if an explosion happened, they wouldn't shatter like last time.
"Then I continued working," she said.
Her coworker Samer Mchantaf said he couldn't feel a thing and remained "completely numb."
Ahmad Hassan, who lives two kilometers away from the Port, said a friend sent him images of the fire and advised him to open his house windows to avoid glass from breaking in case an explosion happens.
The blast on August 4 was due to 2,750 tons of ammonium nitrate insecurely and improperly stored.
Nearly 200 people were killed, over 7,000 injured, and around 300,000 displaced.
Some people still remain missing.
Read more:
Turkey arrests journalist for 'insulting' Turkish sultan on Twitter
Trump thanks Oman's Sultan Haitham for supporting UAE-Israel peace deal
Charity founded by Syrian tycoon Rami Makhlouf has Facebook page removed