Iranian wrestler Navid Afkari was executed without prior warning: Report
Iranian champion wrestler Navid Afkari was executed without any prior warning to him, his family or lawyers, according to media reports.
Iran said it executed Afkari on Saturday despite an international outcry and widespread pleas to spare his life.
For all the latest headlines follow our Google News channel online or via the app.
A new audio recording of a phone call between Afkari and one of his brothers late Friday, hours before his death, suggests that he had no prior knowledge of his imminent execution.
In the recording, posted by Iran International on Monday, a hopeful Afkari says he and his two other brothers Habib and Vahid – both of whom have been given lengthy prison sentences – have been told that they are going to be transferred to a prison in the capital Tehran Saturday morning – the same morning he died.
Afkari told his brother in the recording he is "calm" and that "God willing everything will be all right."
The recording has sparked anger among Iranians on social media platforms who believe that Afkari was deceived and given false hope by authorities.
Afkari, his family or lawyers were not notified of the execution in advance, a BBC report said, noting that under Iranian law, the accused and their representatives must be notified 48 hours before a death sentence is carried out.
Signs of torture
The report also cited an eyewitness close to Afkari's family as saying that family members were only allowed to see his face before burying his body. Afkari's nose was broken, the witness told the BBC.
The Afkari brothers had previously released several audio recordings maintaining their innocence and saying they were tortured into making false confessions.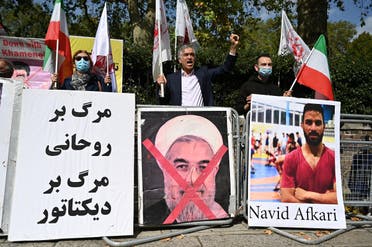 In the audio recording posted by Iran International, Afkari says doctors from Iran's Legal Medicine Organisation examined him and his brothers in prison and took note of 10 to 15 places on his body where he had injuries.
Afkari, 27, was arrested during anti-government protests in 2018. He was given two death sentences, six and a half years in prison and 74 lashes for the alleged murder of a water company security guard.
His brothers, Vahid and Habib, have each been sentenced to 54 and 27 years in prison, respectively.
Their mother had said in a video recording that her sons had been tortured to testify against each other, and that one of them had attempted suicide due to the physical and psychological pressure in prison.
Read more:
Iran's execution of wrestler Navid Afkari sparks outcry on social media
Iran executes wrestler Navid Afkari over alleged stabbing of guard: Reports
Pompeo condemns 'vicious' execution of Iran wrestler Navid Afkari