Lebanon: More families are marrying off teenage daughters as economic despair sets in
An increasing number of families have become willing to marry off daughters at the age of 13 or 14 in Lebanon's Beqaa Valley, community members say as crises in the country continue to mount.
Over the past several months, groups of activists – mostly women and girls, and most of them Syrian refugees – have been knocking on doors to confront the growing issue that has been largely overshadowed by the more dramatic crises that have erupted in the country over the past year.
As Lebanon's economic circumstances – and by extension, those of refugees living in the country – have become more desperate, an increasing number of families are willing to marry off their teenage daughters in exchange for economic stability.
Child marriage "was present before, but it wasn't to this level," said Fatima Aleter, a Syrian refugee and one of the volunteer leaders of a campaign by the NGO Women Now to change perceptions about child marriage in the community. "There was child marriage before, but in the shadow of the war and displacement and becoming refuges, and harsh economic circumstances and social circumstances…the percentage is increasing, especially among Syrian refugees."
For all the latest headlines follow our Google News channel online or via the app.
An assessment of the living conditions of Syrian refugees in Lebanon conducted in early 2019 found that 27 percent of girls surveyed aged 15 to 19 were married. That survey predated the economic crisis that began in October 2019 and has worsened considerably in 2020. But anecdotally, refugees said the pressure for families to marry their daughters off has increased.
When the Women Now volunteers visits families who are considering marrying off their teenaged daughters, Aleter said, "The main thing they tell us is, it's because of the economic situation. 'I have four or five children, and a groom is coming to ask for my daughter, why would I want to turn him away?' We hear this story a lot, that the young man is decent and a good prospective husband and …I as a refugee am not able to meet the needs of my children.'"
When Aleter hears that, she tells them about her own daughter, who was married at 14 and divorced at 19 after her husband turned abusive. It's a common story – girls who are married off young often return to their families after the marriage fails, sometimes with a child, making the economic burden their parents were trying to alleviate even heavier.
Read more:
Period poverty in Lebanon rising amid unprecedented economic crisis
Football fans pay tribute to Lebanon's Mohamad Atwi who died from a stray bullet
Lebanon hits bottom of barrel credit rating as government formation flounders
"Your daughter is coming back to you broken after having been exposed to all kinds of violence, and now she has a child. You've fallen short on your responsibilities from several perspectives," Aleter said. "…They are thinking that marriage is the solution, but it's not the solution."
Aleter herself married at 17 while still living in Syria. It was her choice to get married, she said – her mother had tried to convince her to wait – but it turned out to be an unhappy union. Aleter wanted to continue her studies, and her husband-to-be had promised she could, but after they married, he changed his tune because his parents opposed her studying or working.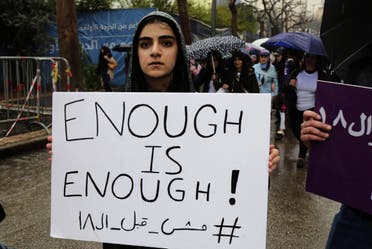 She stayed with her husband for the sake of their children until, after coming to Lebanon as refugees, he decided to marry off their 14-year-old daughter to his cousin, who was 17 years her senior. In the end, when her daughter decided to leave her husband, Aleter stood up against her own husband and divorced him as well.
Sharing her story
Joumana Rahmoun, a teenager with a soft voice who frequently punctuates even the most shocking statements with giggles, is another volunteer with the campaign. Married at 13, she is now divorced at 18, with a three-and-a-half-year-old son, who she is not permitted to see.
At the time when she was married off, Rahmoun said her father was in prison, and her mother was worried about the problems that go along with raising teenage girls in a conservative society without a male head of household. Those include gossiping neighbors and the fear of sexual harassment or assault.
Rahmoun said she assented to the marriage, but without having any idea of what it would really entail.
Read more: Hundreds protest against child marriage in Lebanon
"Every day I would get a beating," she said. "… I tried to kill myself three times to be done with it."
Now she wants to share her story. "I was deprived of a lot of things, and I wouldn't want any girl to go through what I went through."
If someone had visited her before the wedding to explain to her what marriage could entail, as she is now doing with other girls, Rahmoun said, "I would have rejected the idea completely. I wouldn't have agreed – that's it."
Minimum marriage age
Lebanese women's rights activists have been campaigning for years for a nationwide minimum marriage age of 18. Currently, marriage age, as with most matters of family law, are set by religious courts, meaning that all of the country's 18 recognized religious sects set their own minimum marriage age, nearly all of which are under 18.
Anas Tello, another volunteer with Women Now, said the group had chosen deliberately to focus on working within communities rather than lobbying for legislation.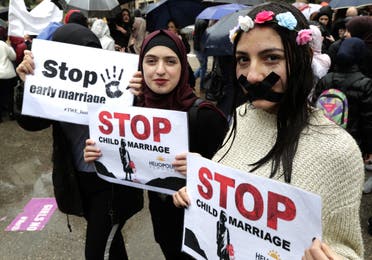 "In our campaign there are Lebanese and Syrians, but it's 80 percent or 90 percent Syrian," he said. "We don't have the power to change the laws in Lebanon. So, we saw that we can work on the community and on the culture of our community. There are other groups working on the law. We looked at where can we make a difference."
While the campaign – first launched late last year – hit some roadblocks due to the COVID-19 pandemic and related lockdown measures in the spring, it has picked up steam over the past few months. At a ceremony in the Beqaa Valley earlier this month, the volunteers celebrated its accomplishments, including getting more than 1,800 families to sign pledges not to marry off their daughters before the age of 18.
Marriage 'happening much more often'
In refugee camps in the Beqaa, some residents said they had, indeed, changed their minds after the discussions with the Women Now volunteers.
Juma Mohammed, a refugee from Raqaa, Syria, living in a camp near the Lebanese town of Zahle, took a few sessions to change his mind, but now has turned down suitors for his 16-year-old daughter. Mohammed recalled that in his community in Syria, early marriage had not been so common.
"But after we came here, this thing started happening much more often," he said. Mohammed said he had been thinking of marrying his daughter off before hearing from the volunteers. What changed his mind, he said, was the 'real life stories,'" and particularly when it was pointed out that such marriages often fail.
"There are people I know, my relatives, who it happened with them and the marriage didn't last," he said. "…Bit by bit I changed my mind. It's now impossible that I would marry [my daughter] off early."