Hagia Sophia and Erdogan: A debate of ideologies and cultural identities
What Erdogan did by changing the status of Hagia Sophia, the former "Byzantine Church" museum, into a mosque could simply be described as a "transfer of crises." The decision was condemned by the world; The United Nations issued a statement deploring the move and considering it an illegal act. As the Director-General of UNESCO Audrey Azoulay said: "[The] Hagia Sophia is part of the historic areas of Istanbul, a property inscribed on UNESCO's World Heritage List. It is an architectural masterpiece and a unique testimony to interactions between Europe and Asia over the centuries. Its status as a museum reflects the universal nature of its heritage, and makes it a powerful symbol for dialogue."
In doing so, Erdogan is driven by his desire to overlook huge internal crises, consequences of his reckless policies in Syria and Libya, his support of extremist organizations, and his exporting of terrorists to conflict areas. Turkish diplomacy is in its worst shape because of Erdogan's behavior and his way of dealing with almost everyone, including European countries, which he knows it is very difficult to improve relations with.
Al-Jazeera and other pro-Erdogan media, especially online, have been spreading confusions and delusions about "Hagia Sophia" to support his stance which is in contrast to historical facts and tolerant, moderate Islamic concepts. Changing the status of Hagia Sophia is not only a thoughtless act, it is also an offense to Islamic values and will enflame the conflict of ideas between civilizations, and provoke new waves of Islamophobia.
It is similar to provocative acts by extremist and terrorist groups regarding historical monuments and civilizational sensitive issues.
Hagia Sophia, which means Holy Wisdom in Greek, was originally a church and one of the most important icons of Byzantine heritage, before it was converted into a mosque by the Ottomans until it was turned to a museum during Ataturk's reign.
Hagia Sophia in Istanbul is but one of five Byzantine churches with this name in Turkey, including one in Trabzon [Trebizond], which was inhabited by the Greeks.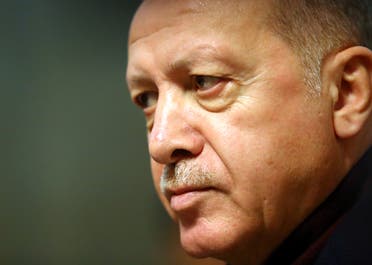 During the last decade, four of these churches were converted into mosques in line with the project led by Erdogan and the Justice and Development Party, the bearer of "Political Islam" flag in Turkey. They aim to change the cultural identity of the country for two main reasons.
Firstly, to build and restore Erdogan's image as a leader in the Islamic world after his repeated failures, including his endeavors to recover Ottoman antiquities in Mecca, internationalization of the Muslim Hajj (Pilgrimage), which he tried to market with the support of Qatari media with no success. Let us not forget that Muslim communities and the World Health Organization welcomed the decision made by Saudi Arabia to limit the number of Muslims performing Hajj this year amid the COVID-19 pandemic. However, Erdogan is still trying to promote his ideas about the internationalization of Hajj and holy sites and this could explain the timing of Hagia Sophia's decision.
The second reason is a revenge against the European Union and the West in general. With Erdogan's expansionary polices in the region, supporting terrorism and armed organizations in Syria and Libya, it is obvious that he has no hope to join the EU, and Macron's recent statements confirm that.
Converting Hagia Sophia in Istanbul to a mosque attracted more attention than other churches which faced the same destiny in Turkey due to its historical value. Built in the sixth century AD, Hagia Sophia was named as the "great old lady of the East" and the "domed crown of Istanbul."
The decision was made in response to an appeal submitted by a non-governmental organization affiliated with Justice and Development Party. This appeal sought to overturn a ruling issued by the Turkish Supreme Administrative Court in 1934 to convert the church into a museum.
As expected, the decision was endorsed Erdogan, who is keen to re-launch a new Ottoman era. Last year, he said, "The use of Hagia Sophia as a museum is a big mistake."
A month ago, he proposed to practice Muslim prayers inside Hagia Sophia to enhance his political image – he capitalizes on Islamist populism ideology to execute his project.
Hagia Sophia was not a mosque before 1453 when the Ottomans conquered Istanbul (which was called Constantinople), and their young leader, Mehmed II, ordered to convert the five-centuries-old church to a mosque and obliterated its features. In 1934, Kamal Ataturk turned it to a museum.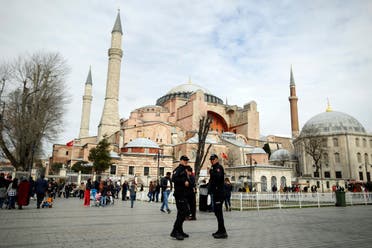 The economic crisis, failure of military endeavors in Syria and Libya, and catastrophic diplomatic performance hit his image badly at home, especially as these were coincided with the construction of his 1,100-room palace, and news about financial corruption cases in which some of his family members were involved.
That explains why Erdogan was looking for a big issue to rebuild his image utilizing ultra-religious and nationalist slogans and trying to annoy Western countries, Saudi Arabia, and other moderate Arab and Islamic countries.
According to the Economist, polls show that the decision to change status of Hagia Sophia will be supported by many since Erdogan uses it as a symbol of restoring the Ottoman empire's glories, an Islamic propaganda for abroad and nationalist for people in Turkey. However, the polls also confirm that the government used this case to divert attention from internal problems, especially economic crisis, while some reports mention that Erdogan is looking to go for early elections, only two years after the last elections.
This decision, which may boost nationalist feelings in general can distract people attention from many political and economic failures. Crackdowns on Erdogan's opponents have increased after the coronavirus pandemic, where some members of parliament and journalists were arrested for espionage and terrorism charges. Prisons charges, from two to six years were issued against four human rights activists, including two from Amnesty International. The authorities also imposed a ban on a number of television channels, closed a university linked to a former prime minister who is now one of Erdogan's political opponents.
The political cost of this decision is dire for Erdogan and his party, specifically in matters related to religious tolerance and dialogue of civilizations. It will antagonize Christian communities and lead them to take moves against Islam, as it is worse than what the Taliban did to the Buddha statue or what ISIS did to Islamic and Christian heritage sites in Iraq and Syria.
In patronizing an extremist project, which echoes terrorists' discourse, Erdogan knows that the easiest way to draw attention is taking measures without taking into consideration religious, historical and civilizational sensitivities. Such actions provoke rational people and attract extremists; however, they reflect a troubled personality that can't be trusted.