From a renowned singer whose love songs captivated thousands of fans from all over the Arab World, Lebanese singer Fadel Shaker has been seen turning into a strict Salafi who has been said to describe singing as "haram" and love as "vice."

Earlier this year, Shaker declared his divorce of art during his participation in a demonstration in Lebanon opposing the Syrian government's cruelty against its people, in which he was reported to announce his retirement from singing, expressing happiness that he has finally chosen "the right path."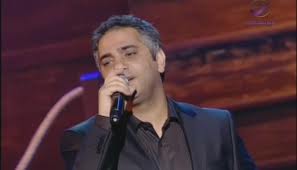 Shaker was quoted by several news agencies at the time describing himself as a repentant Muslim, despising his former career. "Singers make happiness while they're very sad because of their distance from God."
''I'm a Muslim man for whom Allah has shown the right path,'' Shaker said, during an interview with Rahma TV Channel at his house in Saida, some 50 kilometers south of Beirut. He said that he quit singing to show a strong belief that art is haram (forbidden).
Following his resignation from art, Shaker has been seen in many places and media outlets with a Salafi look, abhorring singing and art in general and saying that "worshipping God" is his most time spent.
Recently, Shaker was seen participating in a funeral of two Lebanese Salafis who were killed during an armed clash with supporters of the Shiite Hezbollah party- militia in Sidon.
Shaker, who long known to the audience as a romantic artist, was seen again during the funeral with a Salafi beard, telling media outlets that his decision to quit singing was taken after several Sheikhs convinced him that art is haram (sin) and takes a man to hell.
"Singing is haram and makes God angry," Shaker was quoted as saying.
Besides, the Lebanese singer, who has been known also as a shy person and a sensitive artist, was also seen in a photo posted on Facebook accompanying Sheikh Ahmad Alaseer, a major Salafi leader, in a boat trip.
"Haj Shaker," as he preferred to be referred to, told Al Arabiya.net that he gave most of his time to worshipping God and defending the righteous causes of people.