American television reality star Kim Kardashian faced a fierce backlash from some of her 17 million followers on Twitter following a tweet in which she was "praying for everyone in Israel."

Her statement was received with displeasure from some of her followers who even sent her death threats and prompted to her to "pray" Palestinians as well, before moving to delete both posts.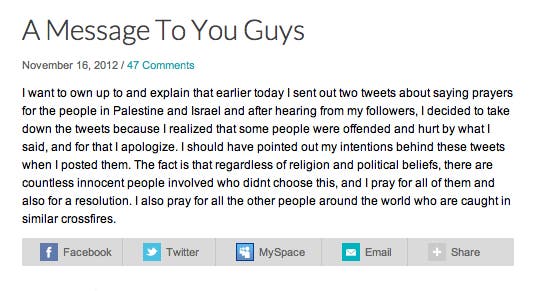 "Die in hell," wrote one tweep. Less brutal critics said they had "lost all respect for her," and called her a "disgrace to her people" and outright "disgusting."
"Further enhancing your reputation as a dumb adult star... RT @KimKardashian Praying for everyone in Israel," one person responded to Kardashian's statement. Another one said, "Kim i love you but please don't pray for Israel. They are murderers." Others told her she should be "praying for Palestine, not Israel."
According to Twitchy.com, which archives all tweets even if a user deletes them, five minutes after the initial post, Kardashian attempted to appease her haters with the follow-up tweet: "praying for everyone in Palestine and across the world!"
But her maneuver to amend the situation and calm down her angry followers failed as the controversy continued.
"Ha! Kim Kardashian has deleted her Palestine sympathy tweet! Was right to be unconvinced & she didn't have the stones to stand by her words!," one Twitter used wrote in a statement.
"Hahaha @KimKardashian deleted her tweets, must have had SERIOUS backlash from her idiotic uninformed tweets," another one said.
However, both tweets disappeared from her account and she has resumed discussing other matters– like her two-hour Tracy Anderson workout on Saturday.
Kardashian addressed the controversy on her blog later on Friday, with a post entitled "A Message to You Guys."
Kardashian said that she wanted to explain her two tweets, which were deleted subsequently, were her prayers to all Palestinians and Israelis, regardless of their religion or political beliefs.
"I decided to take down the tweets because I realized that some people were offended and hurt by what I said, and for that I apologize," she wrote in another tweet.
She added that she hoped for a resolution and prays for people worldwide who are innocent victims of similar crossfire.