If U.S. reality TV star Kim Kardashian expected to be surrounded by heaps of fans amid her arrival to Bahrain, then she was absolutely right, except for one thing: Islamists were there to greet her too; but in their own way!

Thousands of fans, who had paid up to 500 Bahraini dinars ($1616) a ticket, broke into hysterical screams as Kim, 32, launched the 'Millions of Milkshakes' franchise inside a mall in the Bahraini capital on Saturday.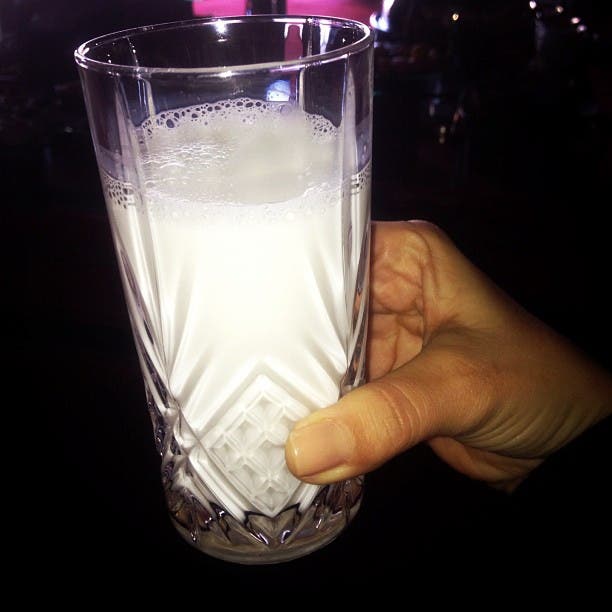 Upon her arrival, Kim said on her Twitter account: "I just got to Bahrain today. This place is incredible! Prettiest place on earth!" This message was re-Tweeted by Bahrain's foreign minister.
"Thanks Sheikh Khalifa for your amazing hospitality. I'm in love with The Kingdom of Bahrain," she said in another tweet.
Kardashian's twitter account flickered with pictures of Kim in the desert, with camels appearing in the background and another where she holds a cup of camel milk.

However, a special political taste was added to flavor up Kim's trip to Bahrain.
Just hours after the American reality TV star gushed about her impressions of the Gulf kingdom, riot police fired tear gas to disperse more than 50 hardline Islamic protesters denouncing her presence.
An Associated Press journalist saw protesters chanting "God is Great" near the shopping complex in Riffa, some 20 kilometers (12 miles) south of the capital Manama. The demonstrators were cleared before Kardashian appeared late Saturday.
The Bahraini MPs who described Kardashian as having a "bad reputation," failed to push through a resolution preventing her visit to the Gulf country.
One demonstrator held a poster saying it is not part of the Bahraini culture and traditions to receive the reality star.
Meanwhile, Bahraini activist Maryam Alkhawaja implored Kardashian to use her celebrity to highlight human rights violations in the kingdom.
AlKhawaja, who is Acting President of the Bahrain Centre for Human Rights (BCHR), sent an open letter to Kim, inviting her to meet with human rights activists in the country.
The Bahraini activist wanted Kim to learn about human rights violations.
Kim's visit to Bahrain comes along her Middle East tour which involved Kuwait and UAE. The tour had been recently the center of some controversy due to what were seen as political tweets during the recent Israeli-Gaza conflict.