While the role of a butler is often associated with historical movies and TV dramas, the profession is in massive demand in some parts of the world.
British-trained butlers are increasingly being hired not just in London but for very wealthy clients in cities such as Dubai, the BBC reports.

A fresh graduate from a London-based butler's institute started a position in Dubai this year that paid a yearly salary of 582,000 AED ($158,000).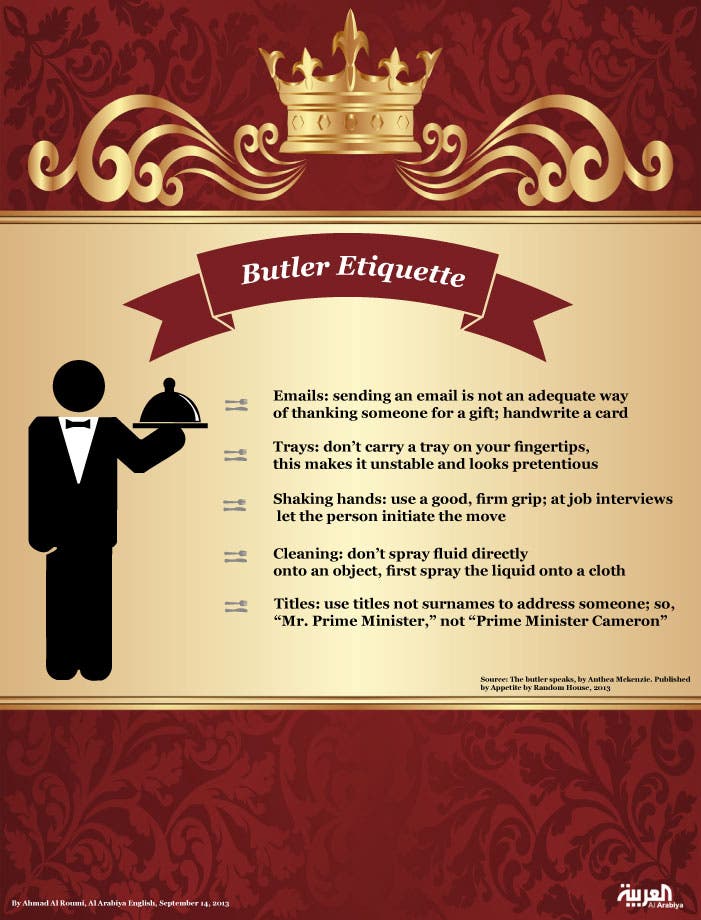 However, the job requires long hours and many responsibilities.
"I travel bi-weekly and I am expected to be on call 24/7, caring for my principal's personal things like clothes, travel bookings, reservations and shopping. I also have to make sure he's always looking good and that he stays hydrated in the heat," said one butler quoted in the article, who works for an Emirati family business in Dubai.
However, the same butler is also entitled to a $110,700 salary as well as a luxury apartment, bonuses, private jet travel, and two months holiday per year.
Another Dubai-based butler serving temporarily on a yacht reports that celebrity and super-VIP visitors have "high demands and odd requests," telling the BBC how he was once required to postpone a dinner party to acquire specific glass plates to arrive from Europe as a guest would not eat her food off porcelain.
Sara Vestin Rahmani, a director of a butler training institute suggests that the British butlers are popular because Britain has "a history of the class system, household staff, etiquette, great traditions."

Fascination
"The new rich - and the rest of the world - are fascinated by the protocol that comes with these specific British traditions," Rahmani told the BBC.
"The 'new money' clients want status, control of their households and to 'be seen' as rich and important so they show off with these exceptional British workers."
Etiquette consultant William Hanson noted in the article that the global popularity of the British butler-infused period drama Downton Abbey may have been a factor for the growing demand for the profession.
However, the expert notes that the role of a butler has changed significantly since the days of the carefree, pre-war British aristocracy.
"It's about running schedules, organizing and motivating a team, managing multiple properties and caring for truly extraordinary precious possessions," said Hanson.