Egypt's surprising snowfall shocks many
Gardens, streets and houses in some Egyptian towns were covered by layers of snow
Against all odds, the layers of snow which covered parts of Egypt on Friday will require Egyptians to drop the long-held saying that their country is rainy but warm in winter.
Many Cairo citizens woke up to see snow from their windows, an unusual spectacle in a country where precipitation of this kind is a rarity.
Over the past two days, rain has lashed parts of the country.
The streets, gardens and houses of upscale developments on the outskirts of Cairo were covered with layers of snow.
"It's the first time I see snow," Samar Salah, a 21-year-old Cairo resident, told Al Arabiya News.
"Despite feeling cold, people were very excited about the snow," she said.
Salah said several services were paralyzed this morning due to the weather.
"I didn't find any transportation to go to work today," she said. "Many shops were closed too due to weather conditions," Salah added.
Other suburbs of the capital also saw light snowfall, residents reported.
Authorities in the Mediterranean cities of Alexandria, Suez and Damietta decided to continue the closure of the ports due to bad weather conditions.
Ali Qutb, an official at the meteorological center, told Al Arabiya News a similar cold snap hit Egypt few years ago but did not result in snowfall.
"The drop in temperatures between 5 and 11 degrees Celsius is what did not happen in years," said Qutb.
"The sink in temperatures is what caused rainfall accompanied with snow in some areas," he added.
Snow jokes
Some Egyptians took to social media to comment on the cold weather.
"Egypt has the climate of Europe… the economy of Somalia," one tweet read.
Moreover, pictures of a snowman smoking shisha flickered Twitter. Others shared a picture of a camel sitting on snow.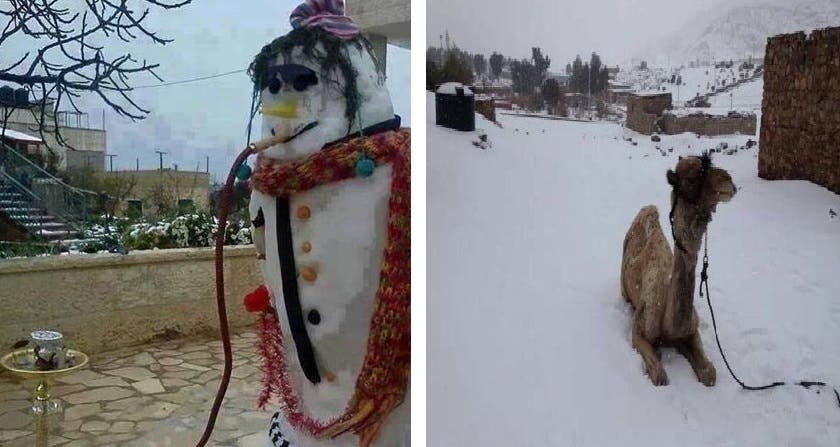 "Picture of the day: a camel in the snow in Egypt. It's like a polar bear in the desert," one Twitter user said, in reference to Egypt's sandy terrain.
Some claimed that the change in weather is a blessing of the new era marked by the military's overthrow of President Mohamed Mursi last July.
A twitter user thanked army chief Gen. Abdel Fattah el-Sisi for the snow, saying:
"Snow fell down in Egypt for the first time in history during Sisi's era, a popular leader."
"Hats off to Sisi, in just a few months he made Egypt look like a European country because of the snow," another comment read.
Although many social media users said that this winter has been the coldest since the past 122 years, this claim was denied by the Egyptian Meteorological Authority.