Ethnic Moroccan beauty pageant won by 19-year-old
Contestants were judged on their mastery of the Tamazight language and their clothing
Asmaa Sarah, 19, who hails from the Amazigh ethnic group, was crowned Miss Amazigh 2014 in the Moroccan city of Agadir on Friday.
The Amazighs are a group of people who inhabit the area extending from the eastern Siwa Oasis to the Atlantic Ocean to the west, and the Mediterranean Sea in the north to the south of the Sahara.
The contest also came during the occasion of the Amazigh New Year.
Held at a university in Morocco's southern city of Agadir, the contest judged the beauty queens by their mastery of their ethnic language, and the quality of their cultural dress.
A group of 10 women aged between 18 and 25 have been selected to line up for the beauty pageant.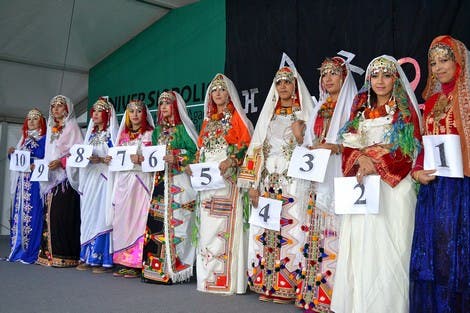 Apart from their age criteria, the women were expected to master their Tamazight language, a family of Berber dialects spoken in North African countries. A third judging point was related to their ethnic clothing.
More than 50 percent of the event's proceeds went to a local charity association.
"I am very happy to win the pageant and be able to help local charity organizations, especially the ones that will be held next month in the Berev province of Agadir," newly-crowned Sarah told a reporter from Anatolia News Agency.