Lebanon's Jessica Sahyoun wins Miss Big Arabian Beauty pageant
Meant to provide a positive body image to women, the contest's slogan read 'I am beautiful, elegant and a queen, even if I am overweight'
Lebanese native Jessica Sahyoun nabbed the reigning title on Wednesday in the country's second annual Miss Big Arabia Beauty pageant.
The 23-year-old tourism graduate beat out 14 other women competing from Jordan, Tunisia, Egypt, Morocco and Lebanon to win the $100,000 prize.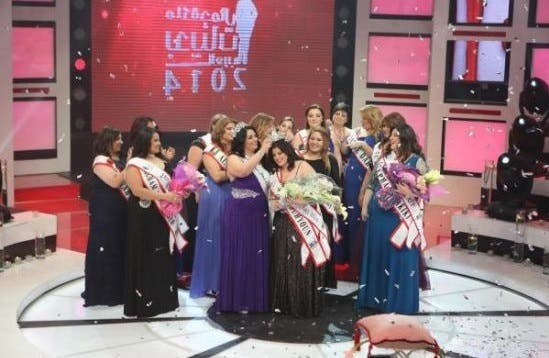 Aiming to provide a positive body image to women of all sizes, the competition's slogan read, "I am beautiful, elegant and a queen, even if I am overweight."
The show also included sessions of teaching the contestants about gaining self-confidence before appearing in front of the cameras.
The voluptuous contestants were judged on their swimwear appearance and off-camera interviews with a panel of four international judges.
The panel consisted of Aiyannah di Nisci, representing the Miss Plus Size competition, Fatema Parker, the founder of the Arab chapter of the Self-Satisfaction Association, plastic surgeon Patrick Sneifer, and makeover expert Lama Lawand.
The unorthodox show was hosted by Lebanese talk show Ahmar Bel Khat al Areed and presented by Malek Maktabi and gained regional and international media attention.
Last year's winner Eliana Nehme passed on her crown Sahyoun, who will now compete at the Miss Plus Size International beauty pageant, to be held in Manchester, UK.
Lebanese beauties Stephanie Akiki and Nagham Abou Mjadeh were chosen as first and second runner-up, respectively.