Messi defends rights of Gaza children
Argentinian footballer Lionel Messi says 'I am terribly saddened by the images coming from the conflict between Israel and Palestine'
Popular Argentinian footballer Lionel Messi has defended rights of children in conflict areas, especially in the Gaza Strip where a month of fighting has claimed nearly 1,900 Palestinian lives.
"As a father and a UNICEF Goodwill Ambassador, I am terribly saddened by the images coming from the conflict between Israel and Palestine, where violence has already claimed so many young lives and to injure countless children," Messi wrote Thursday on his official Facebook page, which is liked by 68,043,913 fans as of Friday.
Messi, who currently plays for Barcelona, added that: "Children did not create this conflict, but they are paying the ultimate price," and urged that "this cycle of senseless violence must stop. We must reflect on the consequences of military conflicts and children must be protected."

His message was written both in Arabic and English, and a picture of a bandaged child was attached.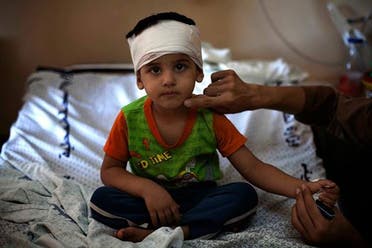 At least 63,571 fans liked his post while 12, 178 others shared it, as of Friday.
Comments in reaction to Messi's post ranged from those shocked that an international superstar would support Palestinians to expressions of support for his message.
"How you can support Arab terrorist organization," one person wrote in reference to the Palestinian movement Hamas, labeled a terrorist group by the United States.
Some showed gratitude for the footballer's message, saying "Thanx Leo… Free Palestine" and "Messi I love my live."
Some Twitter users, meanwhile, considered Messi's Facebook message as decisive in clearing speculation over the footballer's stance on the conflict.
"Leo Messi has officially supported Gaza over the Israel issue now. Hopefully that will shut some mouths," wrote one Twitter user, while another said: "I don't blame the ones who made up the stories on Messi supporting killing of children in Gaza as much as I blame the ones who believed them."
It was reported in July that Messi made an estimated $1 million donation to the Israel. Soon after the news of his donation, Messi was said to be preparing a lawsuit against the "Le Competiteur" website which reported the claim.