Jemima Khan selfie campaign raises funds for Syrian children
Khan has used her social media skills to raise awareness and much needed funding for the millions of Syrian children affected by the war in their country
Journalist, campaigner and UNICEF ambassador Jemima Khan has used her social media skills to raise awareness and much needed funding for the millions of Syrian children affected by the war in their country.
The #wakeupcall selfie campaign was launched in early October after Khan, who is the associate editor at the New Statesman and European editor-at-large for Vanity Fair, posted a photo of herself after just waking up alongside the hashtag.
A UNICEF blog entry about the campaign reads:

"Just take a quick snap or video of yourself, first thing in the morning – no cheating! – and post it to Twitter or Facebook with the hashtag #WakeUpCall and this text:
Text SYRIA to 70007 to donate £5 or go to www.wakeupcall.org.uk"
The campaign quickly won support from a myriad of celebrities and officials, including Jeremy Clarkson, Harry Enfield, Natalie Imbruglia, Elle MacPherson and John Bishop.
According to social marketing platform Spredfast, Khan's selfie campaign for the United Nations Children's Fund (UNICEF) has reached more than 300 million people.
Khan, 40, wants everyone to participate in the campaign.
"It won't work unless non-celebrities get involved too," she told the Huffington Post in an interview posted on Oct. 10.
There are 6.5 million children who are affected by the conflict in Syria and need urgent humanitarian aid, according to UNICEF.
In 2013, Khan managed to raise more than 1 million pounds ($1.6 million) for Syrian children by hosting the Halloween Ball in London.
"I wanted to make it as informal and unfancy as possible, so decided to auction blankets and water supplies in the camp, rather than holidays on fancy yachts," the Daily Mail quoted her saying in an article posted on Sunday.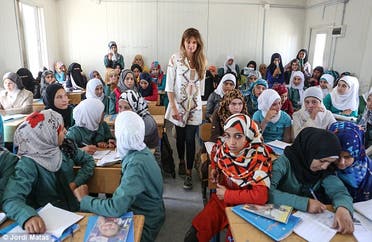 This year's UNICEF UK Halloween Ball raised money to help protect Syria's children from danger.
Khan has seen the plight of the Syrian children firsthand and recently returned from a Unicef field trip in Jordan, one of several countries hosting Syrian refugees.
Khan began been working for UNICEF more than 13 years ago while residing in Pakistan with her then husband Imran Khan and their two young sons, Sulaiman and Kasim.