Thousands of satellite dishes line Cairo's balconies and dot its roof-tops and one group has decided to turn but the drab grey discs into their own canvasses, adding a splash of color to the city's skyline.
Due to dust and pollution, the dishes often turn pale beige – an eyesore not many Egyptians find worthy of their capital, the largest city in the Arab world.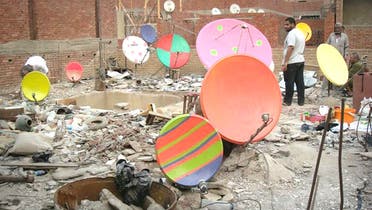 The Cairo Dish-Painting initiative kicked off in Giza, Cairo's next-door governorate where a U.S. artist hosted by a local art collective began giving the pale dishes a personalized touch.
The artist, Jason Stoneking, said that he thought of the idea during his second night in Egypt while hanging out on artist Hany Hommos' balcony.
"I made a comment to him about how amazing it was to me to see so many satellite dishes on the rooftops. Hany thought they were depressing to look at and so I suggested that we try to do something about it," he explained to Al Arabiya News.
Since then, Stoneking, along with the art collective Artellewa team – with which the U.S. artist is spending his three-month residency -started the painting and coloring the bland discs.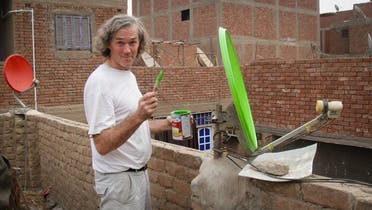 "I suggested that we try to do something about it, to help inspire people to use their dishes as a place for expressing themselves and adding their own touch of beauty to the skyline," he said.
The project seems to fit the aim of Stoneking's residency at Artellewa, which seeks to encourage visiting artists to engage with the local community.
"Our goal when we got here was to find ways that we could collaborate with locals and make projects that Egyptian people could participate in," Stoneking said.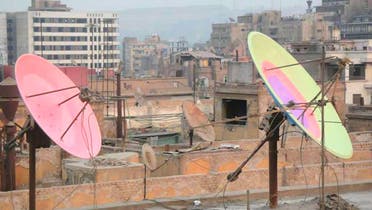 The first dish-painting session was held in Giza's Ard el-lewa.
"It was important to me to begin here, in this neighborhood and have a chance to work with my neighbors here who have been so kind and welcoming to me," the artist added.
"I still try to paint in Ard el-Lewa as often as I can, although I'm excited that the project is now expanding all over Cairo."
Stoneking said dish-owners and residents welcomed him and his co-artists painting on top of their roofs.
"Everyone I've talked to has really loved the idea," he said.
While some worry that the pain would disrupt their signal, Stoneking assured that the paint does not interfere with the reception.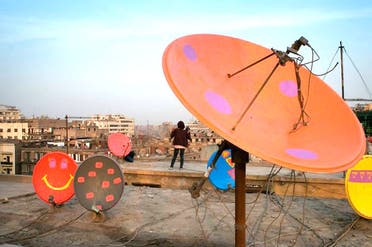 Last week, the Cairo Dish-Painting Initiative travelled to the capital's Kodak building where they climbed onto the roof to personalize the structure's satellite dishes.
Stoneking's residency ends in November, but it seems that the initiative will not end with his departure.
"My dream for the project is that people will keep painting their own dishes all over the city," he said, adding that he hoped the project would continue to grow even in his absence.
"I eventually want it to be the project of the Egyptian people, and not just be about me anymore," he noted.
The initiative has a wide following on social media, with their Facebook page boasting almost 9,000 likes.