In December 2015, Triple H sat with Sasha Banks and Bayley to tell them some news: he was making them, for the first time in WWE history, the main event of a pay-per-view.
"I'm not giving you a main event, you are the main event," WWE legend and Triple H said to the two of them. "This is your moment. Change the business."
Since that moment, Sasha Banks has continued to change the business, and collected a long list of firsts in the process. She competed in the first Women's Hell in a Cell match, was the first Iron Woman in the first women's Royal Rumble, competed in first women's Elimination Chamber, and last December, was, along with Alexa Bliss, the first woman in history to wrestle in Abu Dhabi.
"We just keep on making more history," she says to me.
Sasha grew up in Boston, Massachusetts, where she spent much of her free time watching WWE and Japanese women's wrestling. She began training at only 16 years old, and wrestled her first match for independent Boston-based promotion Chaotic Wrestling at 18.
She joined the WWE in 2012, and only three years later, she had the match that made the world take notice. In 2015, her match with Bayley at NXT Takeover: Brooklyn was named match of the year by Pro Wrestling Illustrated, the first women's match to win that honor.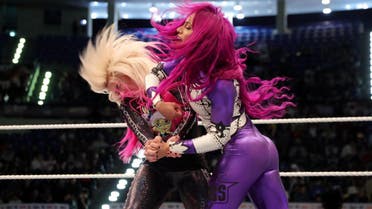 When Sasha came to the UAE, she did so to show the young women in the audience that they can do this, too.
"We're breaking down barriers for women. Having young women being able to see this, being news, interviews, or anywhere—the future is opening more doors for women to perform and be treated equal, especially here in Abu Dhabi. Knowing people will be able to see for the rest of our lives that we were the first ever to get to do this. It's way different over here, but we had a similar experience back in the US where we were called 'divas' and weren't given the same opportunities. Hopefully this opens more doors for women around the world that they can do anything. The possibilities are endless," says Banks.
Not done yet
The glass ceiling hasn't been fully broken in the WWE.
"The women have never main-evented a live event yet," Banks says. "Closing out those, and showing the guys that we can do it just like them. I watch guys like Roman Reigns and Braun Strowman have these crazy street fights every night at house shows. I ask them, how do you go through a table every single night? That's what I want! I want to do it just like them, I want to perform just like them, and I want it to be a place where—" she pauses.
What else does Sasha Banks want? What she wants most of all is to get to the point where we no longer have to talk about firsts.
"I want it to become normal. I don't want it to be, 'that was a great women's match!' I just want it to be a great match, period. I don't want people to say, 'the women are great!' No, we're superstars, we're just like the guys, you don't need to put the women in front of it. I want to keep having those opportunities to be at the forefront and the WWE and the face of the WWE. That's the goal for me, number one, I want to be the face of the WWE," says Banks.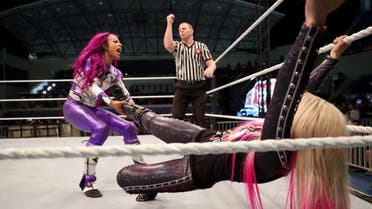 She raises the stakes even higher.
"I want to be the best—to go down in the history books with people saying Sasha Banks is one of the greatest wrestlers ever—not just women's wrestlers, but one of the greatest wrestlers and performers ever."
She and Bayley have talked many times about the possibility that the two main event Wrestlemania, the biggest yearly event in the industry. For that to happen, and for all of this to happen, Sasha wants to have earned it first.
"I want it to be the best storyline, I want people to be invested in it, and I want people to care most of all. It's so cool that we can talk about these first-evers, but if the fans don't care, it doesn't matter."
Working with Vince McMahon
Inside WWE, for decades now, there is one man that has had the final say—Vince McMahon, the chairman of the company and the most influential man in professional wrestling history. Even now, McMahon is backstage at every big show, watching every moment, meticulously planning what will come next. When Banks first joined the main roster, she was often too intimidated to approach him.
"I don't really talk to him too often, because I'm honestly very scared of him. I'm honestly really scared of him. But when he walks by, I try to be cool. Yeah, 'hello, how are you, sir?' He's like, 'hello, yeah.' I'm like, 'we're good, right?' Banks said on Sam Roberts Wrestling Podcast in 2016.
More than a year later, that dynamic has changed.
"It is [different]. It comes with growing up, becoming more mature and becoming a woman. You have this more comfortable feeling of, 'ok, you work for the boss, you work for the man, a legend, Vince McMahon, but hey, you're the Legit Boss, so you better go through that door, tell him what you'd like to do and what you'd like to have'," Banks tells me.
"Honestly, that's the biggest thing—not being afraid to stand up for yourself. If you're very passionate about something, he's the man to talk to. I've learned that it's actually very easy to talk to him, and it's so much better for me to talk to him than to talk to writers, because you get the right answer, and you get the answer right away. You kind of understand what he wants from you as a performer. It's been so much easier talking to him, and I feel less intimidated," says Banks.
The change in their relationship has had a tangible effect on her recent wrestling.
"A lot of times, when it comes to whether we're handed a promo that I'm not really feeling, or trying to figure out what the story—if we don't know what we're doing, it's hard to perform. Recently we asked him, 'hey, where are we going with this storyline? Can you tell me what direction you'd like to see me go?' Getting the answer right from him straight up makes it so much easier."