The second annual Middle East Film and Comic Convention (#MEFCC) was in full swing Saturday at the Marine Club in Dubai. This action-packed theme park of events is fun for the whole family.

Participants could watch movies, attend workshops, meet celebrities, and network with like-minded individuals, from all walks of life.

While some would consider comic book aficionados to be part of a subculture, it has proven, with the success of MEFCC, to be a worldwide one. The hashtag #MEFCC is currently trending globally on Twitter.

Cosplay, short for "costume play", is a type of performance art in which participants wear elaborate, often hand-made, costumes to represent a favorite character, or idea from a work of fiction. Cosplayers often interact to create a subculture centered on role play. Favorite sources of inspiration include manga, anime, cartoons, movies, video games and comic books.

There is a sexual element in a subset of cosplay culture, with cosplayers specifically choosing characters that are known for their attractiveness and/or revealing costumes. Very skimpy costumes are prevalent at comic conventions in the United States.
In Dubai, the majority of the local youths' costumes adhered to Islamic standards of modesty. Many local girls cleverly modified their abayat and incorporated their cultural dress into their costumes.

Three girls were dressed as characters from the Harry Potter series, called The Dementors. They tattered the hemlines of older, plain, less trendy abayat. Another local girl was dressed as Darth Maul from Star Wars. Her abaya served as a cape, and a mask covered her face, instead of a niqab.

Even those who were not dressed up enjoyed various fun activities, such as film screenings in a comfortable outdoor lounge with floor pillows.
People who are serious about honing their comic book craft attended creative workshops yesterday. A few of the creative workshops being offered today are brush techniques, cinematography, how to draw Manga, how to break into the acting business, sequence direction, storyboarding, and how to develop mobile phone apps.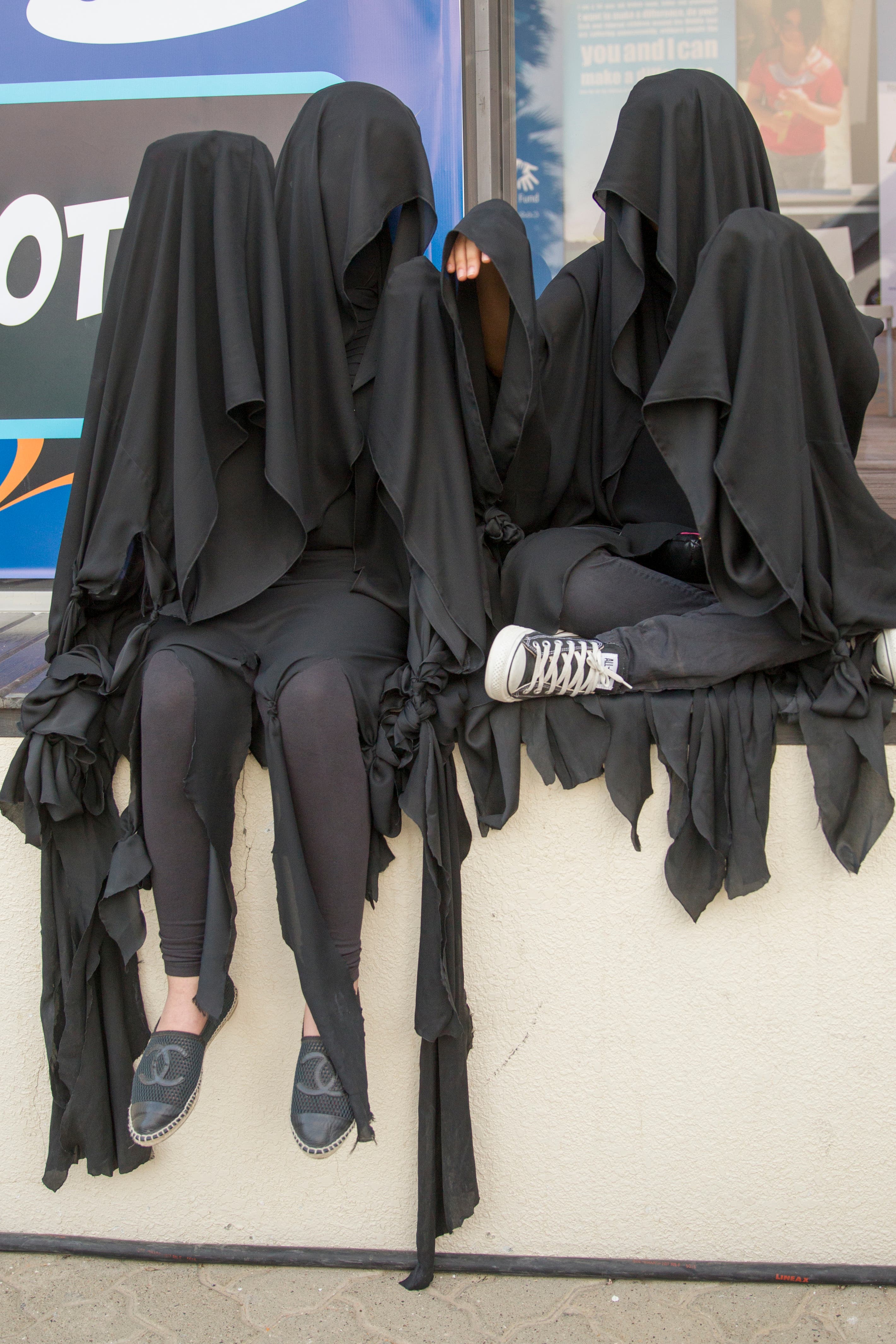 Several competitions are also taking place at MEFCC, including create a character, original art work, art work inspired by an existing character, unpublished comic or comic strip, original storyline or script, and school achievement. Prizes will be awarded to the winners of each category.
Indoors, there are myriad vendors offering plenty of things to buy and collect, including limited edition comic books, figurines, and artwork.

James O'Barr, author of The Crow, signed autographs and drew commissioned artwork. His booth was very crowded yesterday, while his fans camped out around him. One excited fan flew in from Kuwait, just to meet Mr. O'Barr. Another fan, a local female, picked up a print of a lithograph of a femme fatale holding a smoking gun and playfully exclaimed, "All females feel like this sometimes… especially if they have husbands."
Celebrity guests in attendance included actor Alan Tudyk, known for his roles in Firefly, Dodgeball, and the English comedy Death at a Funeral. He signed autographs yesterday, while wearing a gutra. He asked a female fan in an anime costume why she didn't enter the cosplay contest.
She replied, "I couldn't enter the contest and get an autograph from you at the same time; so I chose to meet you." Mr. Tudyk, who appeared touched by the sincerity of his fan's words, humbly lowered his eyes and blushed.

Other celebrity guests included Sean Astin who starred in Lord of the Rings and The Goonies and actor Manu Bennet, who played Crixus in Spartacus: Vengeance and appeared in The Hobbit: An Unexpected Journey. Both actors drew long lines for autographs.

There was a question and answer session in the evening with actor Warwick Davis, who appeared in Harry Potter and Star Wars.

Nancy Silberkleit, daughter-in-law of Louis H. Silberkleit, one of the founders of Archie Comics Publications, dressed entirely in what she described as "Archie Comics" orange, i.e., the color of Archie's hair. Mrs. Silberkleit is the first female executive at Archie comics. She subsequently described her female empowerment initiatives to many eager young women in the audience.

MEFCC was open until 10pm. Fans are already looking forward to re-convening at MEFCC next year.