The image of former dictator Saddam Hussein has resounded in the minds of many Iraqis since his fall.
"When you kill the dictator, it doesn't mean you can erase him from the minds of the people," says Iraqi Kurdish photographer Jamal Penjweny whose series "Saddam is Here" attempts to capture this thought.
From dentists, to butchers, to soldiers; Iraqis across the country took part in the Penjweny's photographic series, covering their faces with pictures of the former dictator while in their everyday locations.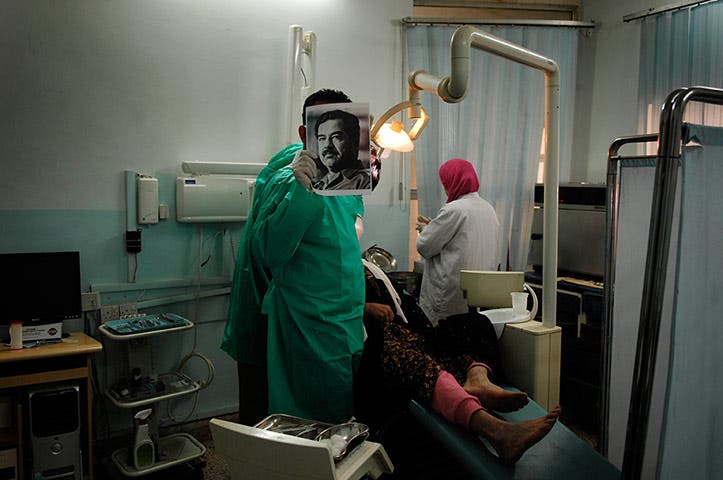 "Saddam is Here" is set to be exhibited at the Venice Biennial on May 28.
"For two years I kept Saddam's picture in my bag, because I want to stage this project – his image - across the whole Iraq; from Baghdad to Erbil, from to Karbala to Sulaimaniya," Penjweny told Al Arabiya English on Sunday.
"But this project is not just about Saddam, it is about the culture of dictatorship which prevails even after Saddam fell. He is inside the people, his culture is still within Iraq."
After living in Europe for several years, Penjweny returned to a post-Saddam Iraq and immediately felt his presence "through the way people talked, lied, loved, dreamed and did politics."
Penjweny says he wanted to be the eyes for the world inside Iraq to show how much Saddam is still part of everyday life.
"People in the west, particularly in the U.S., don't understand that after 10 years since the Iraq war began, not much has changed.
And getting Iraqis to take part in the project wasn't easy for the photographer.
"Some people were scared when they held Saddam's picture, especially Shiites and Kurds who hated Saddam. Some of them had their family members killed by Saddam's regime," says Penjweny.
While his art has been reported on in the West, Penjweny expressed fears over exhibiting his work inside Iraq.
"I don't want to showcase my work in Iraq. Many people don't understand my project, they think that I am pro-Saddam and pro-government; they don't understand my art."
"Saddam is Here" confronts Iraq's past, Penjweny says. Through this, he aims to overcome a "shared history of fear," which can also be echoed across the Middle East.
"This project can be translated across other Middle Eastern countries. Egypt and Libya has witnessed similar changes, and yet the people of those countries can still feel the presence of the toppled Hosni Mubarak and the late Muammar Qaddafi," he adds.