London's Shubbak Festival has kicked off and will run until July 6, the series of events seeks to promote contemporary Arab culture and will see 15 days of concerts, films, theatre shows and exhibitions in the British capital.
Artists, musicians and writers from 16 countries across the Arab world are participating in the event which aims to celebrate "contemporary Arab culture and the growing influence of London's Arab population," according to Eckhard Thiemann, the Shubbak Festival's artistic director.
"Shubbak means window in Arabic, so it is a lens to discover the wealth of creativity of Arab artists," Thiemann explained to Al Arabiya English.
"It is a festival held every two years that brings together artists from across the Arab world," he added, the program puts the spotlight on artists who have established careers and also showcases new talent.
Young artists to be showcased at this year's event include Palestinian musicians who will perform a blend of Arab hip-hop, soul and reggae. The artists that have been confirmed so far are "Z The People," " El Far3i," "Walaa Sbeit" and "Native Sun," who hail from the U.S., UK, Jordan and Palestine.
July 6 will see these artists carry out traditional Palestinian dances to remixed folk songs overlaid on dub-step beats, more synonymous with London's clubbing scene than Gaza, according to the Shubbak Festival website.
"We are particularly excited about our music and theatre program this year," said Thiemann.
The festival also featured Algerian rock performer, Rachid Taha who is part of a generation of musicians inspired by the Clash, an English punk rock band formed in 1976, to reinvent rock'n'roll on their own terms, according to The Guardian.
Taha opened the Festival with his June 22 performance and was accompanied by Algerian singer-songwriter Souad Massi who mixes traditional Algerian "chaabi" music with American folk rock.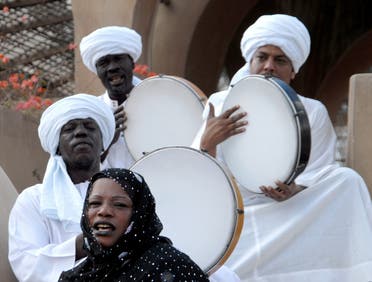 The festival's musical program also included a Friday concert by the Cairo-based Nubian singers and drummers collective, Nuba Nour, who performed traditional songs characterized by call and response vocals and their use of the oud and tar frame drums. They also performed a traditional Nubian dance called "Frry" which is said to represent the movement of fish in the river Nile.
Zanubia, a musical ensemble comprised of Egyptian German singer Merit Ariane Stephanos and Lebanese priest Father Shafiq Abouzayd, will perform Christian chants from the ancient Syriac and Byzantine traditions on July 5.
"I want facilitate inter-cultural dialogue and break boundaries," Stephanos told Al Arabiya English, "people usually associate the Middle East with Islam when there is actually a rich and diverse history of Christianity in the region.
"That is why this festival is so important, it is helping to transcend boundaries and acts as a platform for a variety of artistic voices from the Arab world."
Overcoming pitfalls
Organizing the festival did not come without its pitfalls, said Theimann. "Two of our Palestinian poets have had their visas refused," he stated.
The Gaza-based husband and wife, Ali Abukhattab and Samah al-Sheikh, were set to give a presentation on their work on June 28 but were barred from entering the country, according to Shubbak Festival organizers.
Thiemann stated that this was because British authorities were not satisfied that the couple would return to Gaza, citing their apparent lack of business reasons for flying to the UK.
"It is completely ridiculous. I think they are very humiliated and very disappointed. It would have been the first time they had come to the UK and London," Festival Chair Omar al-Qattan told The Guardian.
"It is very distressing. London is supposed to be an open city, a welcoming city, especially for artists," he added.
Why London?
Despite troubles, organizers stick by their choice of the British capital as the chosen venue for the Shubbak Festival.
"We believe that London is the best city to celebrate the rich and very diverse cultures of the Arab world," Thiemann told Al Arabiya English.
Among London's host venues are the Barbican Centre, the British Museum, Tate Modern, the Serpentine Gallery and the London College of Fashion.
"It is a multi-cultural city and a good place to celebrate various strands of Arab culture which all defy stereotypes," added Stephanos.
"People in this part of the world can't usually observe real Arab culture, that is why I find this festival so interesting, it is all about presenting artistic Arab discourse to the world," she concluded.