The aesthetically appealing curves and dots of Helen Abbas's Arabic calligraphy, found in her paintings, are meant to encourage human unity, communication and portray the human experience. The letters are not meant to be literally read, the renowned Syrian artist explained.
Known for combining traditional calligraphic techniques with a modern touch, the Dubai-based Abbas said art should be about uniting people, especially considering the rough times the Arab region is witnessing.
"At home [Syria], we are one mosaic," Abbas, a mother of two daughters, explained to Al Arabiya English. She was referring to her latest exhibition "Mosaic," which was unveiled together with another collection "Ramad," or "Ashes," last month.
"When I did the two collections Mosaic and Ramad, I wanted to express what is happening right now," she stated.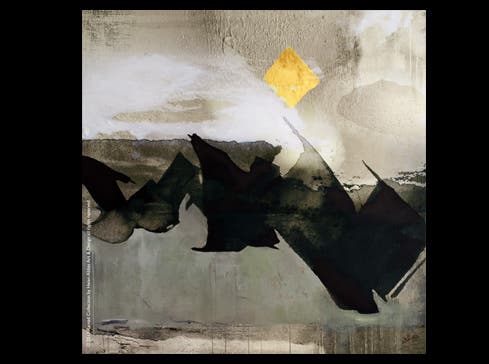 In Mosaic, the artist captures the aesthetic beauty of Arabic letters.
The letters are sometimes centered within squares of painted background while in other works, they are free to run unfettered across geometric shapes.
A single painting is made up of "different colors, [different] spaces within, and letters," she explains.
The Ramad collection is quite different; the background in all its pieces are white, a color chosen to symbolize optimism.
The curvaceous Arabic letters are painted in black, brown and other sandy hues to represent the current lack of unity in the Arab world "in a time [when] we need to be united," Abbas explained.
"There is fear of disintegration of Arab unity," the artist lamented. "The Syrian mosaic, which makes [up] Syrian society, is very dangerous if it becomes disconnected."
Art devoid of politics
The artist rejects the act of explicitly expressing her political opinion on her canvases and says politics and art should not be mixed.
"I am not going to draw my political stance," she said. "Art should combine people and collect them together. As a human maybe through my art I shouldn't express political stances because at this stage people need to be united."
On a personal level, the artist was fearful that she would lose friends due to their championing of different political views.
"I have had friends who had different opinions than mine; I was scared that I would lose them as friends," she said.
Despite the insistence that her art will never depict her political views, the artist has been affected by the current conflict in her home country of Syria.
"I will always feel warmth towards my country no matter what happened, no matter what the reasons. I feel very sad for what had happened in my country and for other Arab states. From Iraq to the Maghreb all Arab countries are like my home, but for my own country, I was really scared."
The future
When asked about her future plans, the artist said that she wishes to go back to Syria but started to cry before finishing her sentence.

Her sanguinity soon returned when she described her new exhibition's theme and vowed to continue juxtaposing contemporary styles with traditional Arabic influences to create whole new type of artistic expression.
The artist also explained the underlying theme of her new project; she wishes to borrow verses from renowned Arab poets to develop her work.
Abbas is currently trying to pick and choose some excerpts from Osha bint Khalifa al-Suwaidi's literary work.
Al-Suwaidi, a renowned UAE poetess also known as the "Gulf Laureate Poet," composes "Nabati" poems, the vernacular poetry of the tribes of the Arabian Peninsula and the Syrian Desert.
There is currently no date set for the public exhibition of Abbas' new collections.