Top places to learn Arabic in the Middle East
The Arabic language is spoken by hundreds of millions around the globe
The fallout from the unrest in the Middle East has made the choices for those hoping to study Arabic in the region narrower and more challenging.
However, adventurous students are still drawn to the Arab world to learn a language spoken by hundreds of millions around the globe.
For Edinburgh University student Lydia Rogers, who is currently studying Arabic in Tunisia, walking into a teachers' strike was not the kind of immersion she had expected at her language school.
"The first few weeks were difficult, with accommodation problems and a hunger strike in protest at the teachers' lack of job security and welfare benefits. One pregnant teacher literally collapsed in my arms," she said.
Rogers is one of many students from European or North American universities who spend part of their course in an Arabic-speaking country to get a deeper understanding of the language and culture.
Confidence from immersion
Catherine Cobham, head of the Arabic Department at St Andrew's University in Scotland, says time spent abroad gives students "a completely different attitude to the culture and people of whichever country they go to, and of Arab and Muslim society more generally, and they feel much more confident about speaking the language."
However, St Andrew's no longer requires their students to study abroad as part of their degree due to security concerns, Cobham added.
This has not dissuaded many students from travelling to the region to learn Arabic.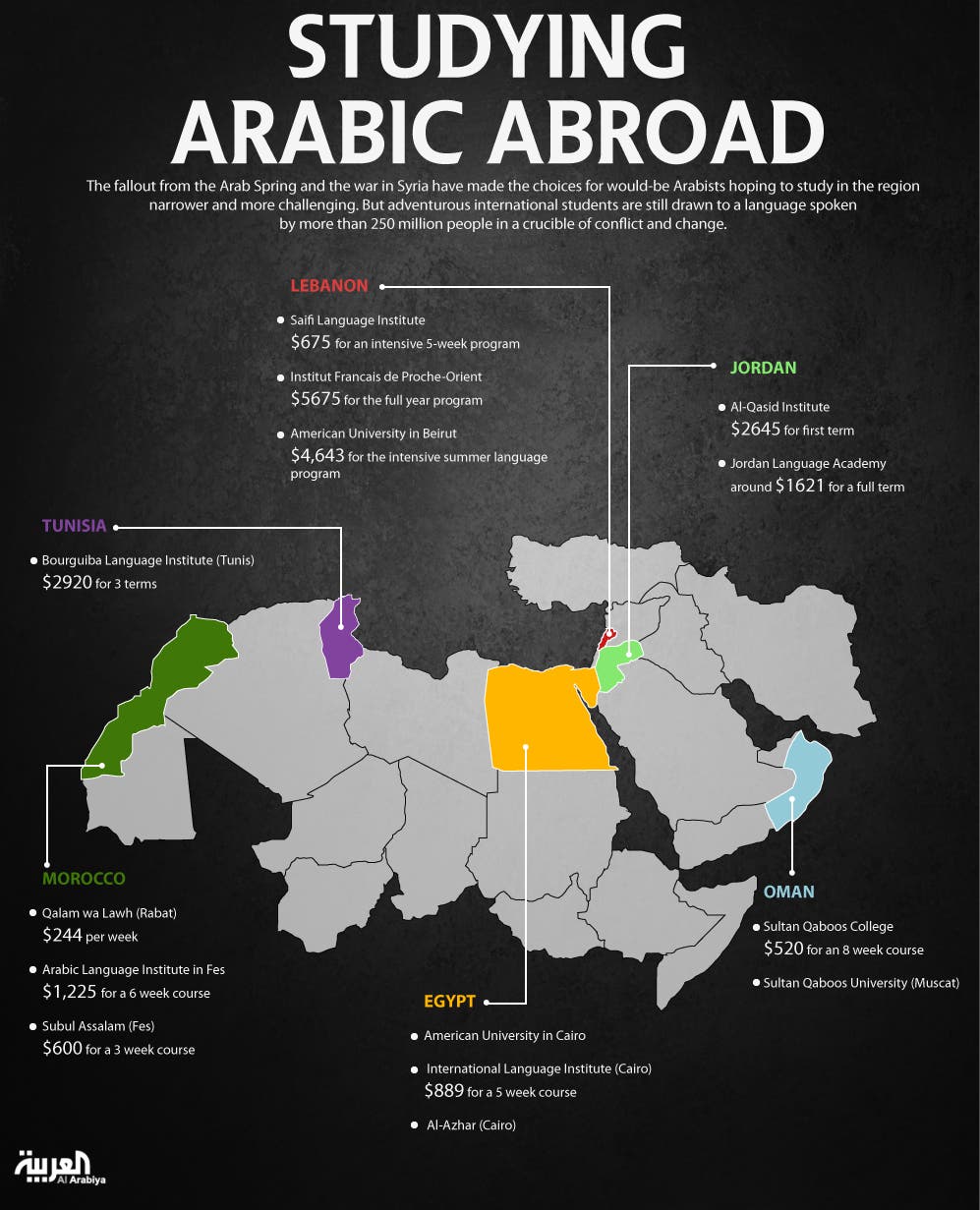 Costs vary depending on university and location. A year abroad in the Middle East can be expensive, because students do not benefit from grants such as the Erasmus program, which provides for study in Europe.
However, many universities fund all or part of students' tuition, while others provide less money but give their students the freedom to plan their own year abroad and balance study and work.
Some language courses are quite intensive, but all will leave time for things such as travel, shopping and socializing.
Here are six of the top places to learn Arabic in the Middle East and North Africa.
Tunisia
Tunisia has been a popular destination to learn Arabic abroad, with students attending the Bourguiba Institute, the Centre Sidi Bou Said, or intensive courses as part of the China Educational Tours program, a U.S.-based organization which began as a tour operator to China and now runs short-term courses worldwide.
The Bourguiba Institute in Tunis costs $2,920 for three semesters, with five hours of Arabic a day, as well as classes in Tunisian Arabic, civilization and literature.
"It's very well known in Tunis. The teaching is good, my speaking teacher is brilliant, and the classes are enjoyable," said Edinburgh University third-year student Louisa Maxwell, who lives with a host family she found through the institute.
Rogers, who lives in a flat in central Tunis, said the capital "is lively, and offers much in the way of Middle Eastern experience."
However, Maxwell says that while people are very friendly, language can be a problem: "The dialect is quite different from modern standard Arabic, and in any case they pepper it with a lot of French. As a Westerner, people far prefer to talk to you in French, even if you push for them to speak Arabic with you."
In addition, Rogers and Maxwell say the teachers have gone back on strike again, so the future of their lessons is uncertain. The country's political paralysis has also made it a less secure option for students this year.
Egypt
In 2009, over half of U.S. students of Arabic who studied abroad chose Egypt, and it has been the main destination for many UK universities.
However, the unstable political situation means many universities are now not letting their students spend this academic year there.
Egyptian Arabic is one of the most widely understood dialects in the Arab world, partly due to its prolific film and TV industry, and the popularity of artists such singer Um Kalthoum.
Students can study at the American University in Cairo (AUC), or at private institutes such as the International Language Institute in Cairo, which charges $889 for a full-time, five-week course. Students can also do courses at local universities such as al-Azhar. They tend to live in small groups in flats, rather than with families.
Protests during the Arab Spring in 2011 made life more difficult, although Atticus Hoffman, a 20-year-old American student who attended the AUC at the time, played down the safety concerns.
"The protests were always very localized, so you could have an academic experience abroad in Egypt where you're never involved in protests involuntarily," he said.
Hoffman is now studying in Lebanon, but returned to Egypt a few weeks ago for a holiday. He says the latest political unrest has changed the country, making it difficult for students.
"Cairo is a different city when a curfew is in place. It was strange to have to stay in your neighborhood by 7pm on a Friday."
Jordan
Amman may not be the most beautiful city in the world - some students there joke that Jordanians probably have 20 different words for beige.
But Pete, who spent the academic year 2012-13 in Amman, urges fellow students to ignore the country's nickname – according to some, at least – "the Hashemite Kingdom of Boredom."
There is "so much to do, like the coral reef in the Red Sea, the Dead Sea, Petra, Wadi Rum, and lots of outdoor activities," said the 22-year-old Cambridge University student, who asked for his surname not to be used.
Jordan has long been a popular choice for students of Arabic because it is relatively stable, and its dialect is fairly close to modern standard Arabic. The country has seen an influx of Arabic students following the unrest in Egypt and ongoing civil war in Syria.
Jordan has several good language institutes, including the highly-regarded but expensive Qasid Institute, the new Jordan Language Academy (JLA), and the language institute at the University of Amman.
Both Qasid and the JLA can help students find accommodation, including stays with Jordanian families to improve their Arabic.
There are also lots of volunteering opportunities in Jordan, particularly as it faces an unprecedented number of refugees from neighboring Syria.
Lebanon
"Lebanon is an absolutely fantastic place to spend your year away," said Cambridge University graduate Lydia Green.
"You'll never get bored. You can ski in the morning, sunbathe on the beach in the afternoon, and go clubbing all night if you like. Even though it's tiny, Lebanon feels like five or six mini-states in one, as each religious community and geographical region is its own world," she added. "The food is great, and the people are very welcoming."
Of course, there are disadvantages, she says.
"You're pretty much stuck where you are. With Israel to the south and Syria in every other direction, once-in-a-lifetime road trips are pretty much out."
Lebanon also has a higher cost of living than some other Arab countries, and is in a near-permanent state of political uncertainty.
There may be increased anxiety because of Syria, but the British Foreign and Commonwealth Office now considers most parts of Lebanon safe to visit.
Furthermore, some students like studying in a country that can be more relaxed in terms of social mores than other Arab states.
The Lebanese dialect is considered "the sexiest-sounding Arabic in the region," said Green.
However, Hoffman said "it's easier to learn Arabic in Egypt, as in Lebanon everyone speaks French and English."
There is language teaching available at the American University in Beirut, the Saifi Language School, and the Institut Francais du Proche-Orient.
Morocco
"Morocco is an underappreciated study-abroad destination for foreign students of Arabic," said Evan Pugh, a 23-year-old graduate of Denison University, Ohio.
He has spent a total of two years in Morocco on different study-abroad trips, and is now on a Fulbright scholarship studying at the Arabic Language Institute in Fes.
"Students are hesitant about studying in Morocco because they feel it's culturally disconnected from the Middle East, or because the local dialect is so unique. But they shouldn't worry, because most Moroccans can understand standard Arabic, Egyptian and Lebanese dialects quite well," he said.
"Travelling in Morocco is interesting because of the geographic, cultural and ethnic diversity, and it's easy and affordable. Also, it's a stable country, and the Arab Spring - which closed the doors of so many language schools in Tunisia, Syria and Egypt - has had minimal impact here."
Like Jordan, Morocco has seen an increase in the number of students from the United States and Europe, due to the Syrian conflict and political disturbances in Egypt and Tunisia.
There are many good language institutes, including Qalam wa Lawh in Rabat, and the Arabic Language Institute and Subul Assalam in Fes.
They all offer courses both in modern standard Arabic and the Moroccan dialect, as well as content courses in Moroccan and Islamic culture, and can help students find accommodation with Moroccan families.
Oman
"Oman is a beautiful country with very welcoming people," said James Flesher, a 20-year-old Cambridge University student currently on his year abroad in Muscat.
"Lots of people here speak English, but at the same time there's a sentiment that the large English expat community are lazy for not speaking Arabic. Effort to speak Arabic is almost always appreciated, but if someone who wasn't very good at Arabic came here, they'd find it hard to convince people to talk to them," he added.
Flesher studied at the Sultan Qaboos college for teaching Arabic to non-native speakers. Otherwise, he says, foreigners tend to study at one of the many private institutes, or the Sultan Qaboos University in Muscat.
_______________________
Faith Barker is in her third year of Arabic and Spanish at the University of Cambridge and a graduate of the Al Arabiya English student internship program. She is currently studying Arabic in Fes, Morocco.