Valentine's Day is 'immoral,' says Saudi cleric
Controversial Islamic preacher claims the romantic occasion is against Islam
Are you defying your faith by celebrating Valentines' Day?
According to controversial Saudi cleric Sheikh Mohammad al-Arifi, embracing the romantic occasion makes Muslims "resemble those who are immoral."
The cleric, who last year called on Muslim youth to join the jihad (holy war) in Syria, while spending his holidays in European countries, added that "TV channels and other media outlets shouldn't be promoting Valentine's Day in any way," Arifi wrote on his Twitter account on Wednesday.

Arifi is infamous for a number of outrageous views and fatwas, this includes advising young girls not to wear revealing clothes in the presence of their fathers to avoid seduction and calling for a boycott of Al Arabiya's sister kids channel, MBC 3, after claiming that cartoons corrupt children.
Valentine's Day has long been a contentious issue to many conservatives in the kingdom.
In previous years, the country's religious police or the Committee for the Promotion of Virtue and Prevention of Vice religious police – known locally as the "Hay'aah" - have raided floral shops selling red flowers on the occasion.
Will this year be any different?
Religious police chief Abdullatif al-Sheikh denied that the Religious Police had ordered the closure of shops - although he did not specifically mention floral shops - on Valentine's Day.
"This is not our specialty… we are against what violates the Quran and the teachings of the Prophet," Sheikh said in an interview to a Saudi newspaper al-Jazirah on Wednesday.
Internet search giant Google, which displayed a pumping heart for international viewers for its "Google doodle," kept its Saudi-based homepage without any decoration, signaling the kingdom's desire to shun the occasion.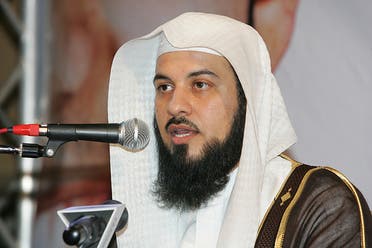 'Unscathed'
The day did not start without commentary on the occasion in Arab newspapers.
"The Promotion of Virtue and Prevention of Vice [religious police] wages a fierce war against all that is red in the color of Valentine's Day: red. Red flowers, red shirt, red hat, even red cars," an article published in London-based al-Arab newspaper Friday said.
The newspaper continued: "despite all of that, Valentine's Day didn't die in Saudi Arabia, and will stay unscathed despite the war against it."
However, clerics denouncing Valentine's Day have their support base.
On the social media network Twitter, one user announced his disdain for the occasion when he wrote: "no to Valentine's Days! Oh Muslims remember your brothers who are killed by those who claim that today is a celebration."
Anti-Valentine
While cartoons posted on social media networks on the day of the occasion depicted the highs and lows of romantic relations between men and women, one photo of a floral shop's sign saying that it was closed to protest the "heresy" of Valentine's Day was widely circulated.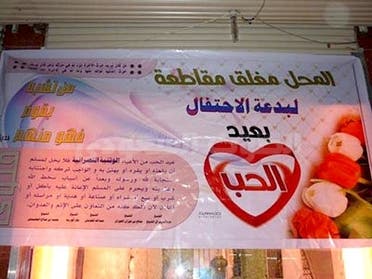 Despite the stance of conservative hardliners, some Saudis showed their support on social media networks for the occasion.
One user wrote on Twitter: "where is the problem if people celebrate Valentine's Day if it was for love?"
Another user said: "although love is considered one of the pillars of the Muslim personality all year long, the religious police have gone on a preemptive strike from making it happen."