Gulf citizens lead the way in marrying Saudi women
Yemenis led the way of Arab nationals marrying Saudi women
Statistics indicate that Gulf citizens have led the way in marrying Saudi women during 2011; Kuwaitis were at the top with 762 registered marriage contracts, Al-Watan daily reported.
The total such registered marriages were 1,618, where Qataris accounted for 554 marriages with Saudi women, followed by UAE citizens with 246, Bahrainis with 36, and Omanis with 20.
Meanwhile, Yemenis led the way of Arab nationals marrying Saudi women during the same year.
They accounted for 1,000 marriages, followed by Syrians with 269, Egyptians with 173, Lebanese with 76, Iraqis with 19, and Moroccans with 14 registered marriage contracts.
During the same year, a number of Saudi women were married to non-Arab expatriates, where three Saudi women were married to European nationals, 10 British, 13 Americans, seven Indians, one Filipino, five Thais, 118 Pakistanis, and 15 Burmese.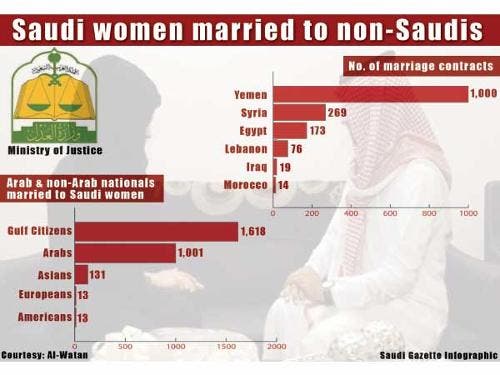 Psychoanalyst and society and family cases specialist Dr. Hani Al-Ghamdi said there are no obstacles in Saudi women marrying Gulf citizens, or men of any other nationality. "Such marriages, however, have to be according to Islamic laws, and they are better than requiring that the husband should be from a certain tribe," he said.
He noted that the media have unintentionally contributed to the different conflicting views of tribal marriages, which was a main reason for women to marry non-Saudis.
Marriage registrar, Abdullah Sanaan, said that the marriage of a Saudi woman to a non-Saudi is subject to certain regulations including the approval of the governorate.
"Such marriages are conducted in courts, because marriage registrars do not have the authority to conduct marriages of non-Saudis," he said.
He believes that many Saudi women marry Gulf nationals because they are able to provide them with suitable living conditions, that Saudi men may not have the capacity to do. He said most marriages of Kuwaiti and Qatari nationals are from families in the Central Region and the Eastern Province, while such marriages of UAE and Omani nationals are from families in the Western Region.