Painting a statement: Art Dubai 2014 peppered with politics
Art Dubai 2014 has a pick 'n' mix vibe; bubblegum colors and witty artistic creations are displayed besides unsettling depictions of war and terror
"War is hell." It is a well-known saying bandied about by pacifists and politicians alike, but rarely has war been represented so strikingly as it has been at Art Dubai 2014.
The art fair will see 85 galleries from 34 countries and around 500 artists descend on the city for four days, starting March 19. This year, it features various accounts of the Middle East's violence and strife, depicted in prints, paintings, video installations and other media.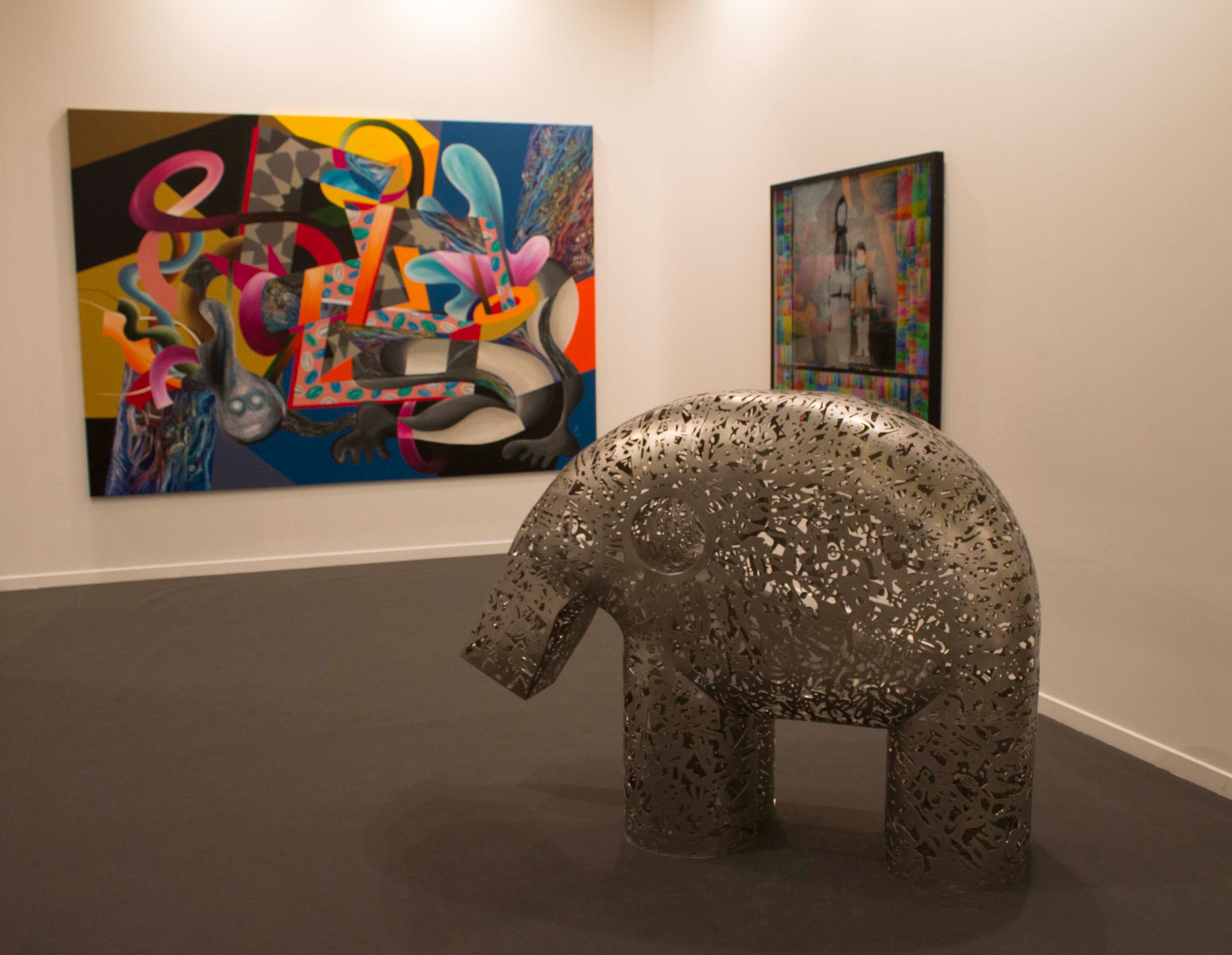 Athier Mousawi, an Iraqi-British artist, has his work on display at the Ayyam gallery stall; a large-scale vibrant painting that on closer inspection is a delicate morass of flattened, tessellated, figures. Disembodied limbs and moaning faces are painted in bright hues of orange and pink, creating a collage of simultaneous beauty and despair in a style reminiscent of Pablo Picasso's Guernica.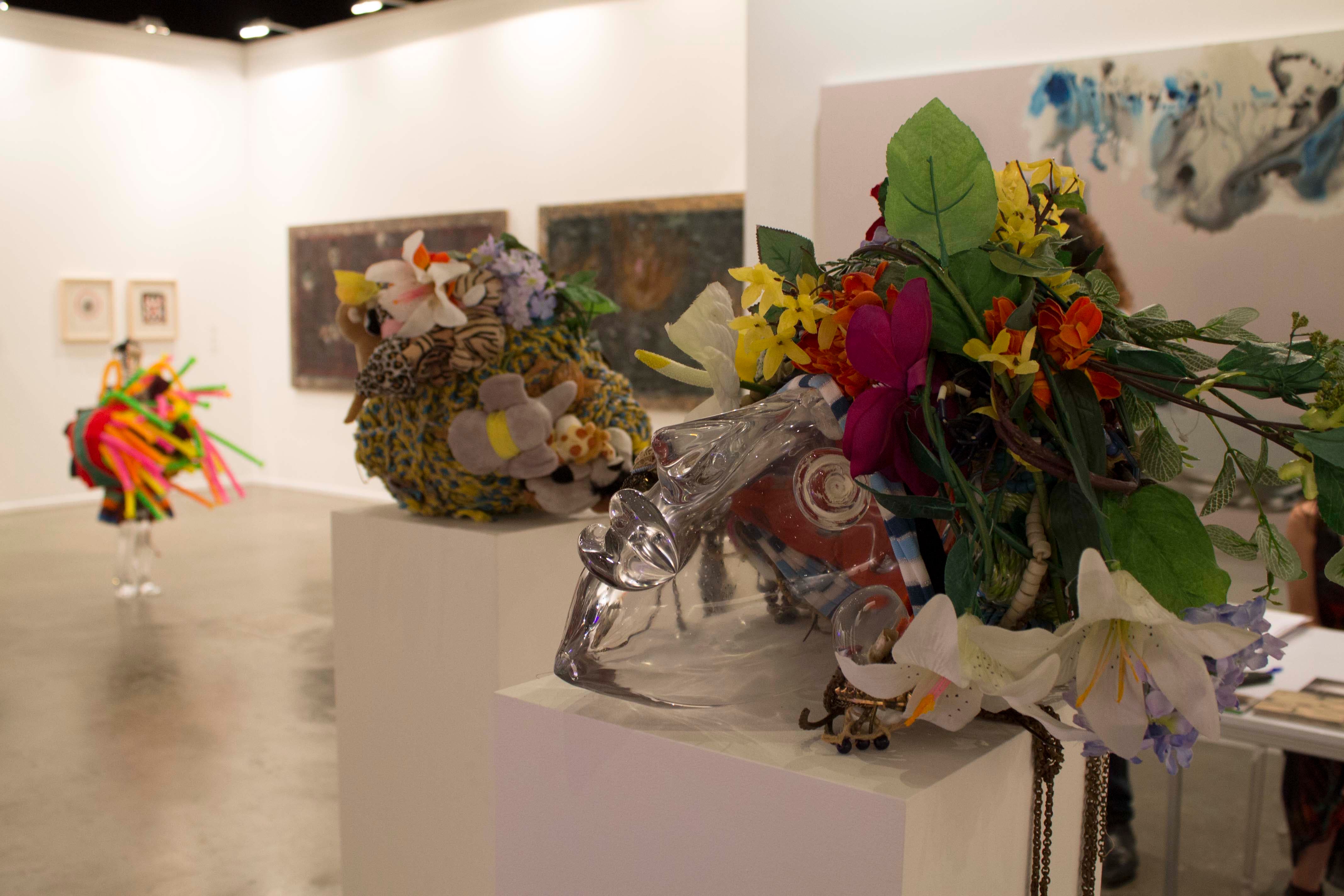 Athier left Iraq before the first Gulf War in 1990 and is now based in London. "Athier has always been interested in Middle Eastern warfare. Him living in London, and kind of living in exile, he sees the violence from his unique perspective," Ayyam gallery representative Ead Samawi told Al Arabiya News.
From the outside looking in to an artist who is immersed in violence, Lebanese artist Ayman Baalbaki has depicted a collapsing building in his work shown by the Agial gallery.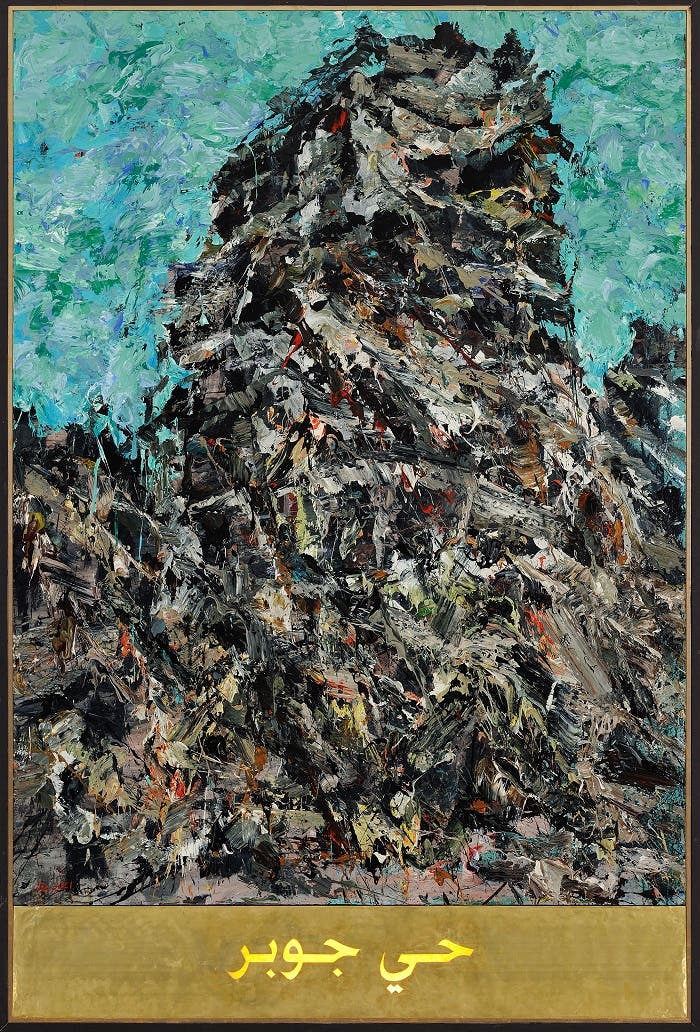 "He is portraying a destroyed building from a neighborhood of Damascus called Jobar. There was so much destruction in that neighborhood and the artist was very inspired by this violence," a gallery representative, Saleh Barakat, told Al Arabiya News.
"In Lebanon, we feel a lot of tension from the war in Syria," said the representative, explaining why the artist chose to apply his paintbrush to a depiction of the now three-year conflict.
Not all doom and gloom
But it's not all doom and gloom. The art fair features a welcome array of quirky, intelligent and light-hearted art which aims to burst the pop-culture balloon by poking fun at social trends.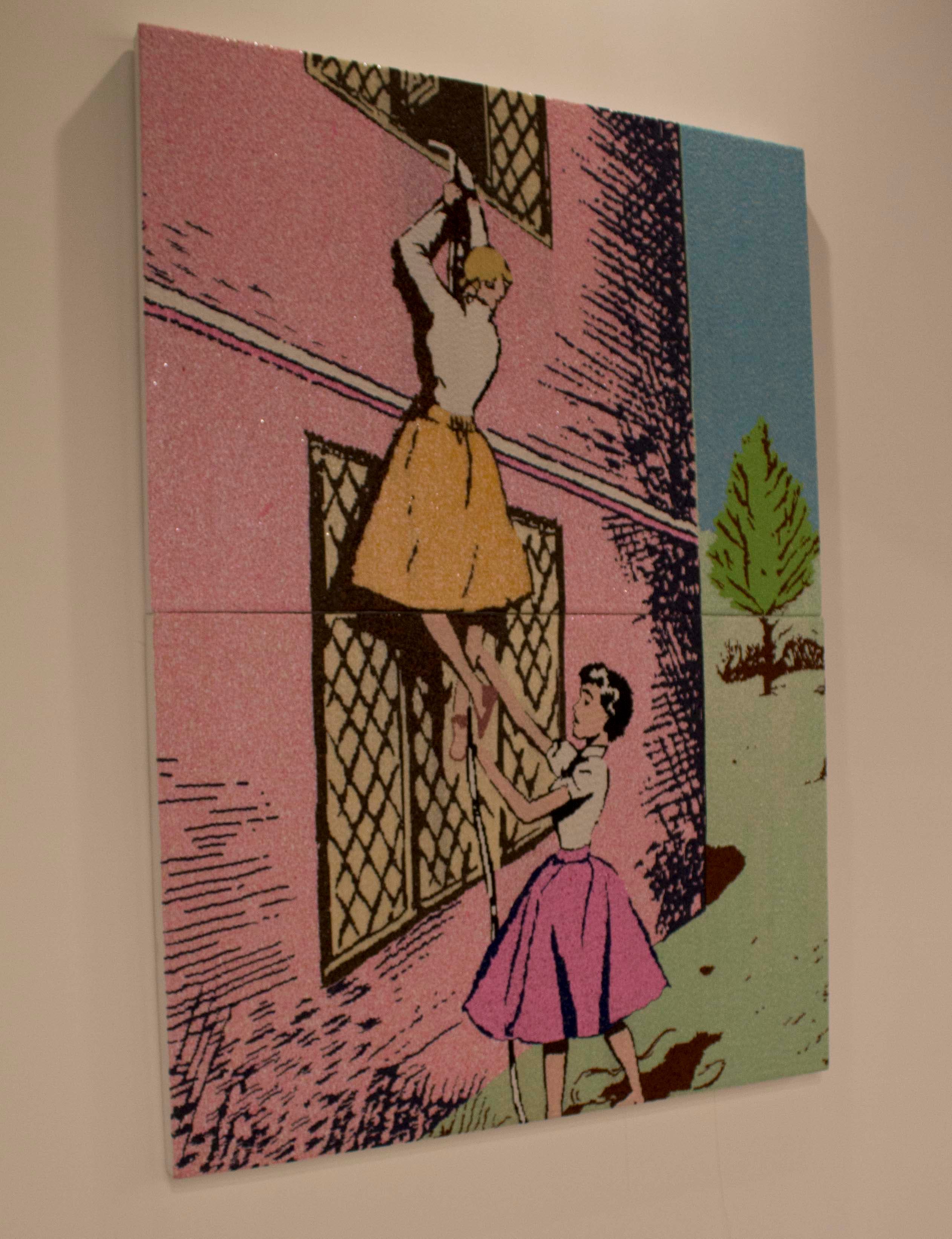 Iranian artist Farhad Moshiri has worked with neo-pop iconography for more than three decades and this year is showcasing his work at The Third Line gallery booth at Art Dubai.
Intricate, glistening, beadwork is hand embroidered onto canvas using a traditional Iranian technique. Instead of traditional Iranian subjects, however, the artist portrays American pop-culture icons of the 1960s; Bridgette Bardot and an all-American pair of women in flared skirts. A pockmarked image of the moon has also been hand-crafted in twinkling monochromatic beads.
"It's very decadent, very opulent work," Saira Ansari, PR manager for The Third Line, told Al Arabiya News. "It's a shout-out to Iranian craftsmanship, but the images you see are very Western. He likes to mix between Eastern and Western aesthetics."
Winner of the Abraaj Group Art Prize, an Art Dubai staple, Basim Magdy has displayed a video installation at the fair.
"I'm producing a new Super 16mm film which was shot in different parts of the world," he told Al Arabiya News. "The film weaves together loosely linked events and irrational occurrences to reflect upon collective failure and hopefulness."
Shown in a small, dark room on the edge of the fair, the video depicts the daily lives and dilemmas of "an anonymous little town which dreams of international recognition."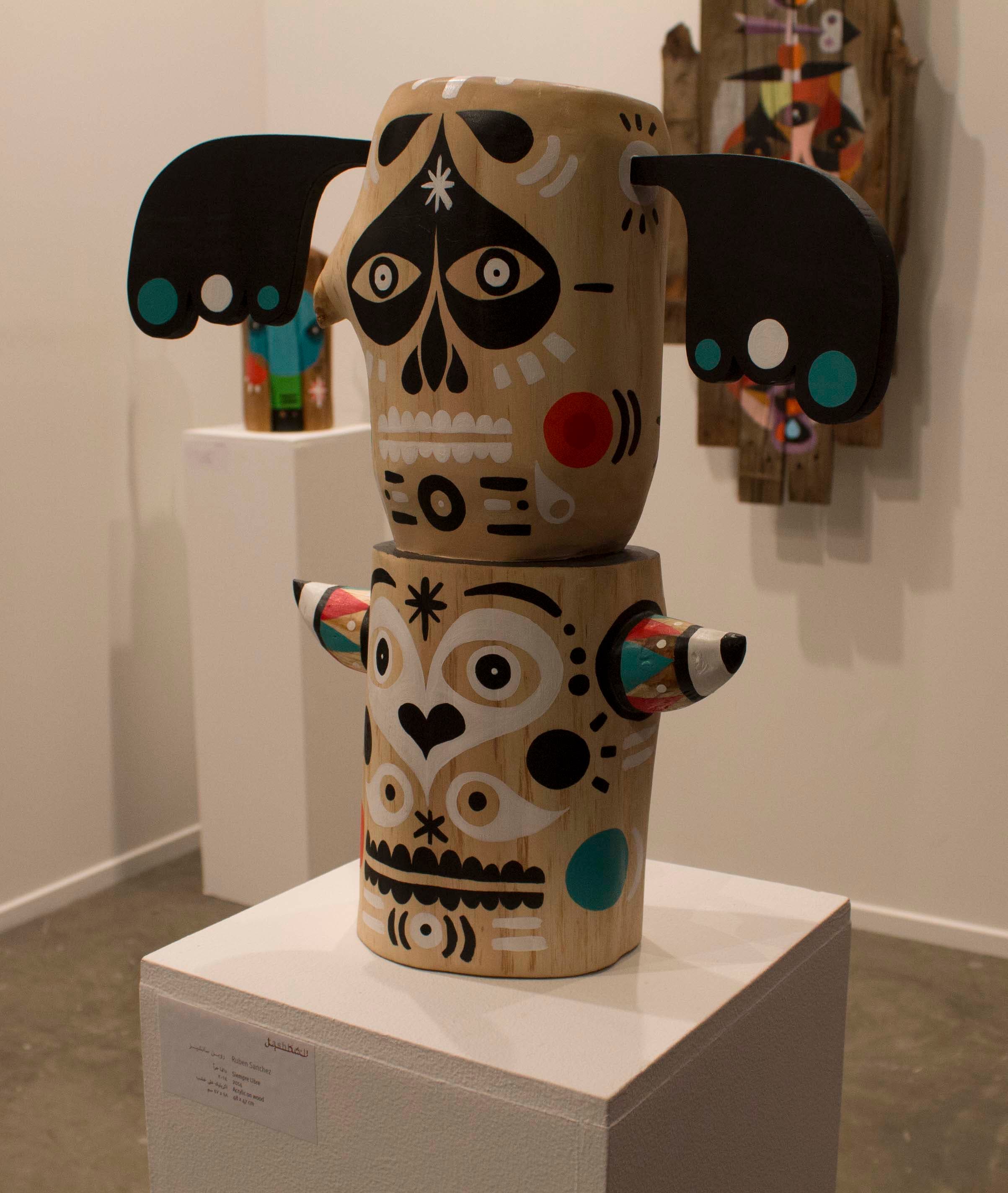 Art Dubai 2014 has a pick 'n' mix vibe; bubblegum colors and witty artistic creations are displayed besides unsettling depictions of war and terror. Artistic comments on a variety of social issues, experimental techniques and a slew of modern art pieces fill the fairground this year.
Get the full picture with Al Arabiya News' exclusive coverage of Art Dubai 2014.