Byzantine era gold coins unearthed in Egypt
Unearthed on Luxor's west bank, the coins were found during a routine excavation
A collection of 29 golden coins from the Byzantine era was found in Egypt's Luxor area this week, local media reported on Friday.
Unearthed on Luxor's west bank, the coins were found during a routine excavation carried out inside a tomb by German excavators.
Egyptian Antiquities Minister Mohammad Ibrahim said that the coins were found wrapped in material and had been placed inside a hole found on one of the tomb's decorative columns, Ahram Online reported.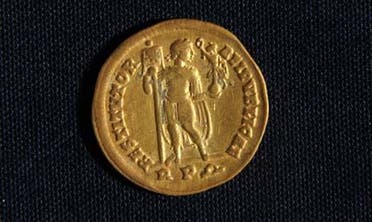 The minister added that preliminary studies dated the coins to be from the fifth and sixth centuries AD.
According to News Network Archaeology, the deposit was found in a Coptic chapel that was installed in a Pharaonic tomb and the coins bear the insignia of the Byzantine emperors Valentinian, Valens, Justin and Justinian, who ruled during the fifth and sixth centuries AD.
The Byzantine Empire was the predominantly Greek-speaking continuation of the Roman Empire during Late Antiquity and the Middle Ages.
The empire's capital city was Constantinople, modern day Istanbul.