Bush portraits met with mixed reactions
Paintings of world leaders by Former U.S. President George W. Bush are now on display for the first time
An exhibit displaying portraits of world leaders painted by Former U.S. President George W. Bush opened Saturday in Dallas, Texas, sparking a wave of reactions regarding the quality and meaning behind each and every art piece.
The show called "The Art of Leadership: A President's Personal Diplomacy" puts on display Bush's first work as an artist. It is held at the George W. Bush Presidential Center and showcases portraits of 24 global leaders.
Bush, who started painting in 2012, three years after leaving office, said reading an essay by the late British Prime Minister Winston Churchill on painting inspired him to take lessons.
"I was a little reluctant to put them out, because I'm not a great artist," Bush said in an interview with his daughter, Jenna Bush Hager, a contributing correspondent from NBC News.
"I don't want people to think I'm a great artist. On the other hand, I did want to refresh the Bush center. I want people to come and visit us. We view ourselves as a place where people can learn."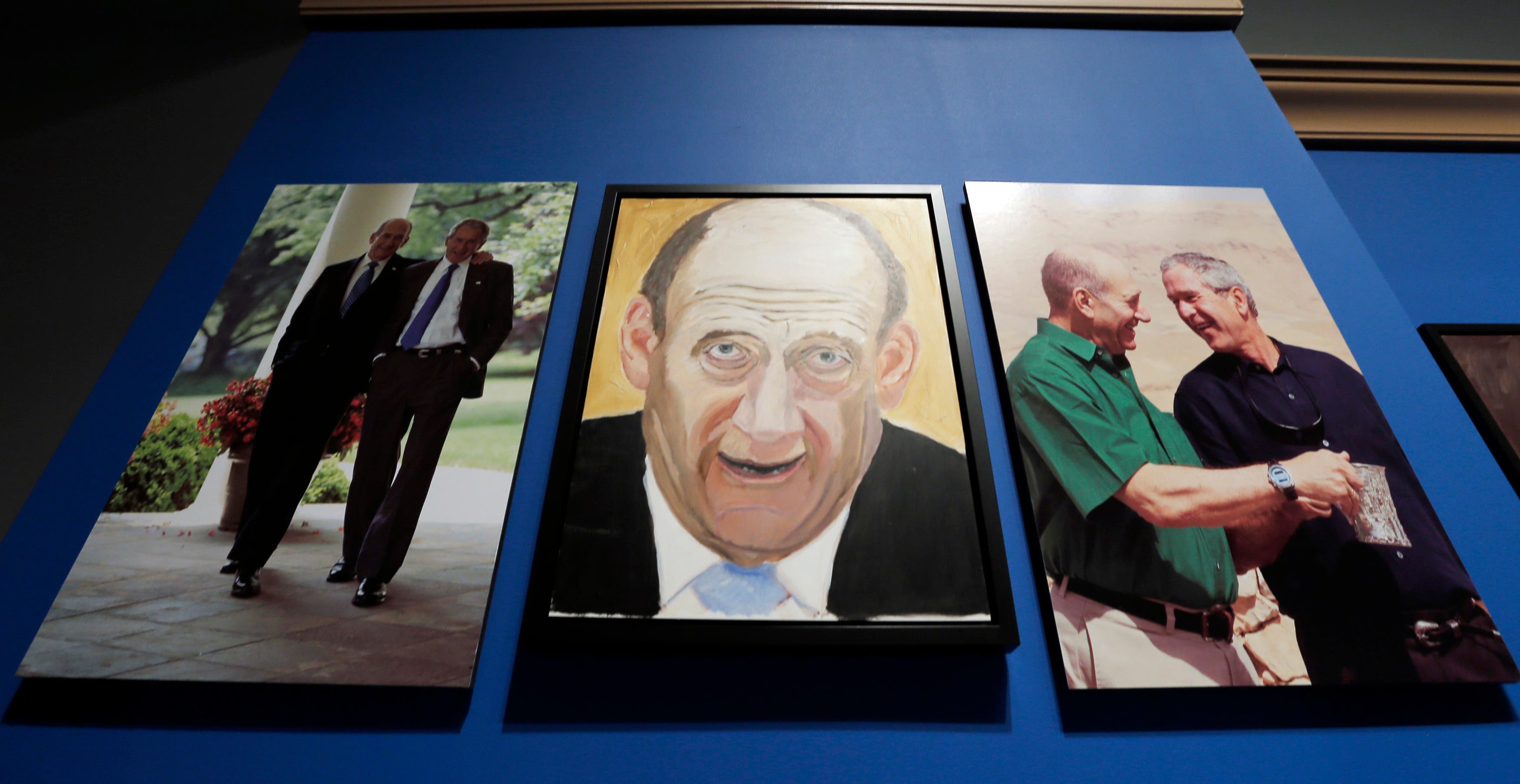 Leaders in the eyes of Bush
The exhibit includes more than two dozen portraits. Bush, who was the 43rd president, signs his works "43." He has quipped: "I tell people that the signature on my paintings is worth more than the paintings."
Among the Arab leaders Bush painted were Saudi King Abdullah, Iraqi premier Nouri al-Maliki, and the UAE's Crown Prince Mohammad Bin Zayed al-Nahyan.
Also on display were gifts the former U.S. president received, including a mantle clock with malachite base and the statue of a horse on top from King Abdullah, and an ornate silver palm tree from Maliki.
Bush's paintings also depicted the Dalai Lama, German Chancellor Angela Merkel and Afghan President Hamid Karzai. He also painted his father, George H.W. Bush, the 41st president of the United States.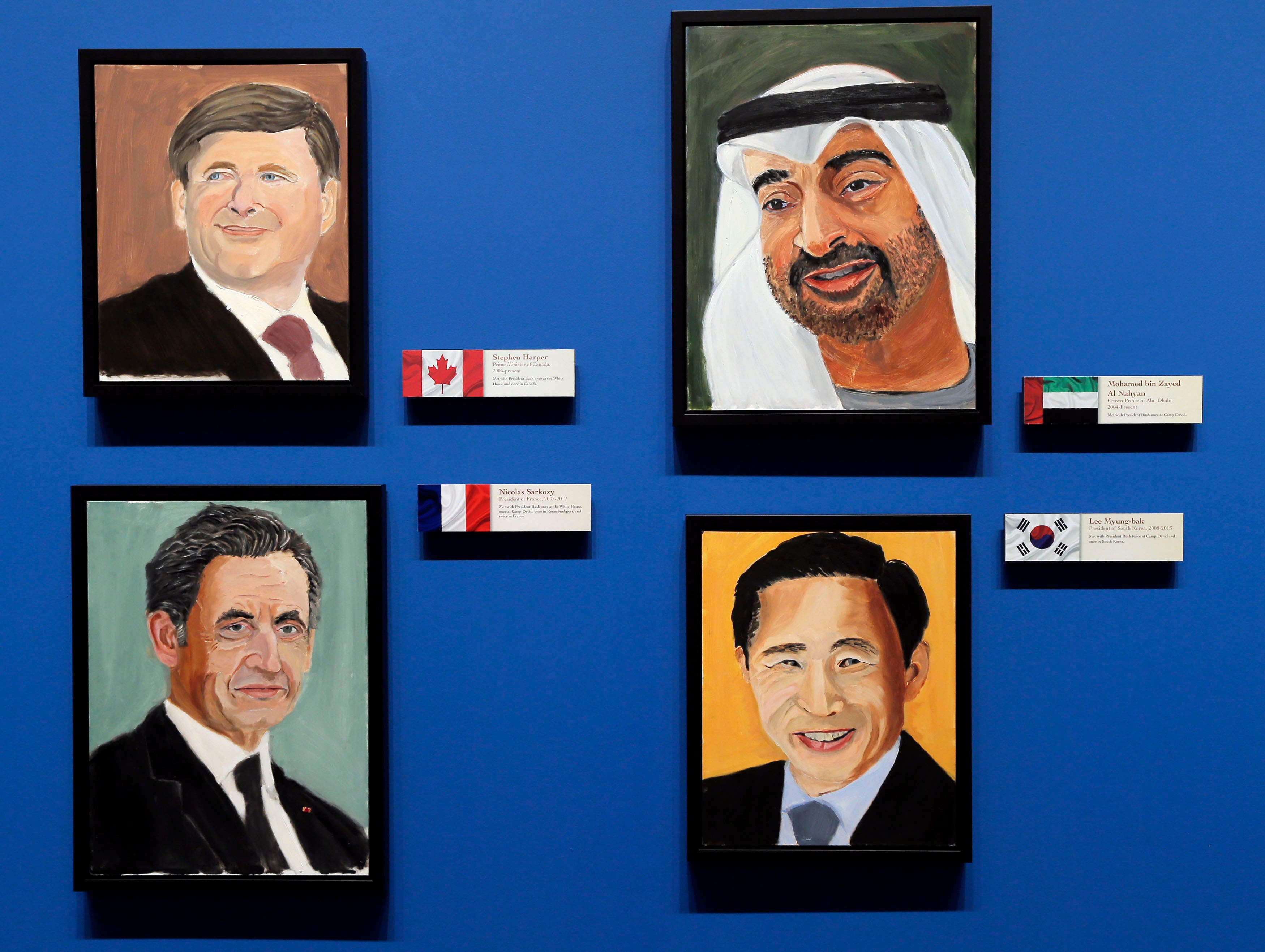 Mixed reactions
The gallery has been met with a mixed response from Western news outlets.
Kevin Bohn, a senior producer for CNN, wrote that the paintings show the controversial former president's "softer side."
A review from Washington Post reporter Adam Taylor focused on the painting of Russian President Vladimir Putin.
"The painting of Putin doesn't necessarily stand out because of artistic merit (though I'd argue that it is a really good painting aesthetically). What's really fascinating is to watch Bush grapple with the identity of Putin, a man he once claimed to understand well," wrote Taylor.
Writing for the UK-based Daily Telegraph newspaper, art critic Alastair Sooke rated the exhibition two stars out of five, saying that they were "markedly absent" of "any air of intimacy, informality or insight" - despite the fact that Bush had met the subjects of his portraits during his presidency.
New York-based writer and critic Jason Farago, writing for the London-based Guardian newspaper, was equally skeptical of the artworks.
"It is futile to gaze at these paintings and discover anything of importance about Bush's foreign policy, or even much about Bush's post-retirement life," he wrote. "Both the painting and the policy reflect a man untroubled by outside judgment, certain beyond any doubt of his rectitude and self-worth."
The exhibition runs through June 3.
(with AP)