Canadian artist uses hot air balloon to form sand painting of UAE leader
The aim was 'to use his iconic painting to celebrate the UAE's culture and traditions'
Battling Dubai's windy weather, a Canadian artist on Monday drew the biggest sand portrait of the United Arab Emirates' first president, while floating above the ground in a hot air balloon.
Sylvain Tremblay, an artist and a professor of modern arts at the Canadian University of Dubai, said his love for the UAE spurred him to create the sand portrait.
"Sheikh Zayed is the man who made UAE what is it today...he is a charismatic leader and is loved by everyone," he told Al Arabiya News, when asked what motivated him to carry out the project.
The aim was "to use his iconic painting to celebrate the UAE's culture and traditions," according to a statement on his website.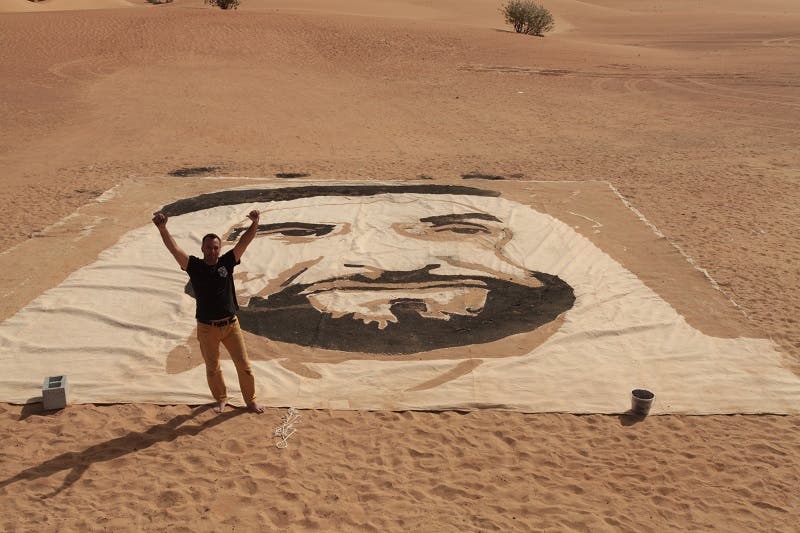 He told Al Arabiya News that using sand was the "perfect choice" as it reflected the UAE's desert countryside.
"We used three different types of sand from different regions in UAE," he said, referring to the slightly different colored sands that can be found in various regions of the country.
The canvas was placed on the ground while Tremblay floated in a hot air balloon, between 10 to 20 meters in the air.
He poured sand on the painting, which was carefully covered in glue so as to collect the grains of sand in the right places. The artist then shook the canvas to sweep off any additional grains.
Covering the 10m-by-10m canvas was a tough task, according to Tremblay, due to windy weather.
Tremblay works between Dubai, Beijing and Quebec.
He said his love for travelling and exploring cultures brought him to the Middle East and added that Dubai's infrastructure "inspires him" to create more works of art.
Tremblay adopts an abstract style of painting and has showcased his artworks in Canada, France and the United States.