Outrage over 'modesty' signs at Saudi girls' schools
They carry slogans such as "your manhood can be judged by kind of abayas the women in your family wear"
Signs posted on the walls of several girls' schools in Saudi Arabia have prompted concerns after they appear to suggest that the modesty of a woman is dependent on the men in their family.
With slogans such as "your manhood can be judged by kind of abayas the women in your family wear," the signs have been seen as an offence to women by some residents in the kingdom, the Saudi Gazette reported on Friday.
Abayas are a traditional loose over-garment, essentially a robe-like dress, worn by most women in the Gulf.
One man, Majed Al-Dhowayyan, tweeted that no one has the right to issue such judgments and asked radicals to correct their thoughts and ideas before judging others on appearances.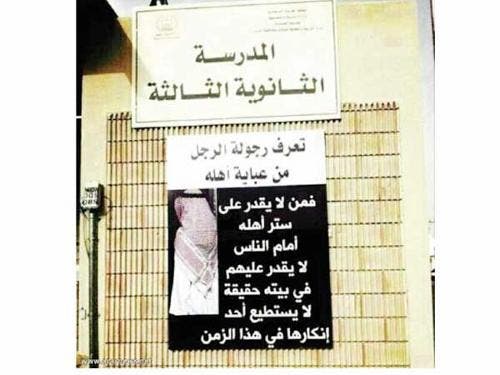 Meanwhile, other residents said they considered the signs to be a new method for improving behavior and ethics.
A faculty member at Dammam University's Psychology Department, Dr. Fatimah Al-Ali, criticized the absence of monitoring bodies that allow such signs to be posted without understanding their true meaning.
Official spokesman of the Ministry of Education, Mubarak Al-Esaimi, said such signs are the responsibility of the guidance section, but refused to say whether the ministry agrees or disagrees with the message in the signs. He simply said: "I do not have an answer."
According to the newspaper, a source in the Ministry of Education said one of the most leading causes of the spread of extremism is allowing extremists access to the education sector.
The source stressed that the ministry and the Kingdom believe in moderation and questioned the reason such signs were put up.
(With the Saudi Gazette)