Half way through Ramadan, no idea what to cook? Get inspired by Morocco
Iftar is celebrated with a vast array of different foods around the world, and Morocco has its own unique cuisine
As many Muslims who observe Ramadan look forward to breaking their fasts, perhaps it's time to take a trip around the world and see what other cultures eat for their iftar meal.
The breaking of the dawn-to-dusk fast, a meal called iftar, is celebrated with a vast array of different foods around the world. This is especially true for Morocco, the North African country with its very-own unique cuisine.
In many households, preparation for the evening meal begins in the afternoon when kitchens become bustling ateliers, full to the brim of exquisite smells, banging pots and whistling pressure cookers.
Throughout the holy month of Ramadan, Moroccan delicacies such as Harira soup, dates, figs, milk, and shabakiya are served daily and are considered the cornerstone of a traditional iftar.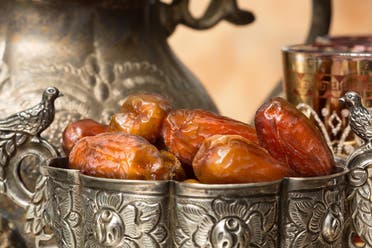 Complementary dishes and pastries always make an appearance on the iftar table and the choices are abundant. Among this rich selection are mlawi, msaman, batbout, harsha and baghrir, which are all different types of breads that could be served plain with honey, jam and cheese or stuffed with different types of meat and vegetables.
The Amazigh of Morocco add more color to the Moroccan cuisine as they serve other types of breads such as mihmih, bourtikh and hartita. All these breads are stuffed with vegetables and they require skills to handle the thin pastry and patience to cut the ingredients into small pieces and sauté them in a carefully prepared mix of spices.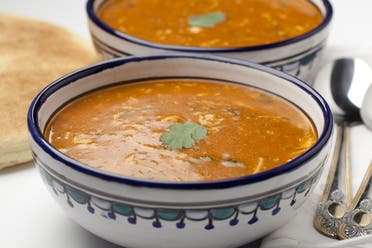 Other famous savory pastries are briwat and bastilla. These are made up of phyllo dough and are stuffed either with different types of fish and vermicelli or chicken and almonds that are sweetened and flavored with rose water.
While families prefer to serve chicken, lamb, beef or fish tajines, others prefer Moroccan barbeques with shermoula and salads. What unites these people is semolina-based couscous, especially on the 27th of Ramadan.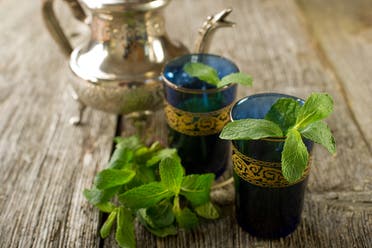 To wash down this feast of pastries and other delicacies, Moroccan iftar tables will usually boast fresh juices. Freshly squeezed orange juice is popular, however, for heavier smoothie-type juices, other fruits such as strawberries, peaches, apples, mangos, papayas are usually added. Milk juices with dates, almonds or bananas are also very common.
Traditionally, the men of the house go out to pray the night time prayers, then the table is cleaned and Moroccan tea making starts.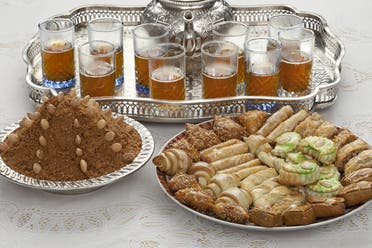 When the men of the household are finished with their prayers, they return home for tea and Moroccan cookies that range from Kaab el Ghazal to Ghriba and Sellou, that is if they don't prefer to have their tajines served after the prayers.
An aromatic and enticing array of delectable dishes, a Moroccan iftar is truly unique. But, what does your country serve up?