Muslim Brits take part in flashmob style 'Big Iftars'
This year 'The Big Iftar' is not only encouraging interfaith Iftars at synagogues and churches but also creative Iftars
The tradition of breaking fast among friends, neighbors and the needy has been part of the Islamic tradition for centuries. Here in the UK, the desire to share the spirit of Ramadan has given rise to a growing popularity of flashmob Iftars and public Iftars at places of worship, community centers and even parks. This year is no different.
'The Big Iftar', a community-led scheme, supports and promotes communities, regardless of their background to break bread together. What started as a small scale initiative last year, has generated a growing interest with more than 100 public Iftars, linked to the project, already being planned across the country. The initiative has even received a mention in the British Prime Minister's YouTube Ramadan message at the start of the holy month.

This year 'The Big Iftar' is not only encouraging interfaith Iftars at synagogues and churches but also creative Iftars by supporting the project [email protected], inspired by the hit British television series 'Come Dine With Me' so that families and individuals can invite people to their homes.
At a time when local and international news can affect community relations here in the UK, Julie Siddiqi the National Co-ordinator for The Big Iftar explains how the scheme provides communities the opportunity: "to build new relationships and alliances with people who can stand together and say no to being divided or kept apart."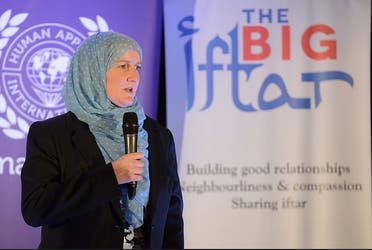 Since the start of Ramadan, there have been a growing number of voices expressing frustration at the lack of understanding of Muslims in the UK. Whether it be influential leaders such as Rabbi Natan Levy, who decided to initiate dialogue and challenge fears of Muslims within his local Jewish community by taking up fasting this month in Ramadan; or the fury on Twitter by many offended by the British TV personality Katie Hopkins' and her anti-Muslim tweet:
"Ramadan typically brings a spike in violence in Middle East. I get grumpy when I don't eat - but I don't blow things up. Religion of peace?
— Katie Hopkins (@KTHopkins) June 29, 2014"
This year, the award winning, student-led initiative, Ramadan Tent Project, is hoping to continue challenging current stereotypes of Muslims by inviting both homeless people and the public at large for Iftar meals, that includes pop-up lectures. Having catered for more than 4000 participants last year, the team of student volunteers are running public Iftars everyday for the whole month, from a small marquee set up near School of Oriental and African Studies in London.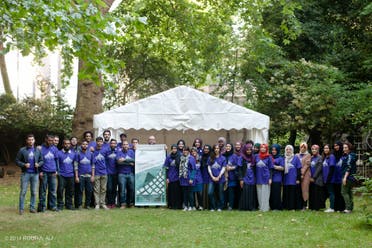 Speaking to Al Arabiya News, Omar Salha, founder of Ramadan Tent Project explains that: "Much of the discourse on Muslims in the media is generally generated by non-Muslims... the Ramadan Tent Project provides Muslims a chance to talk about themselves and Islam in their own words.
"The project has been described as "unique" with steering committee also composed of non-Muslims who take part in the decision-making processes."
British Muslims this Ramadan are experiencing over 19 hours of fasting by abstaining from both eating and drinking during the day. Alongside fasting, many are hoping to achieve heightened spirituality and devotion to God through increased prayers, introspection and being more charitable through Zakat (compulsory yearly charity) offerings as well as contributing to voluntary charity, known as Sadaqah.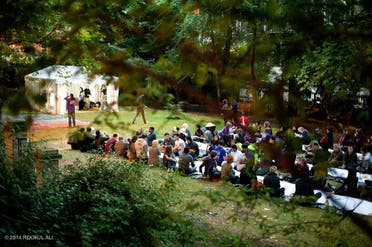 The month of charity and hospitality comes at a time in the UK when Muslims have been named as 'Britain's top charity givers', giving an average of almost £371 each a year. This was also recently mentioned by by Prime Minister David Cameron, in his video message to mark the start of Ramadan 2014, when he stated "Here in Britain, Muslims are our biggest donors - they give more to charity than any other faith group."
Whilst pop-up flashmob Iftars and impromptu community based Iftars initially began through groups of youngsters and students wishing to organize and spread the hospitable and charitable spirit of Ramadan, it has now become common place across many cities in the UK. With multiple public Iftar events planned across the country, not only are these public Iftars expanding their outreach and feeding more people, but also increasingly becoming part of the British Muslim social calendar.