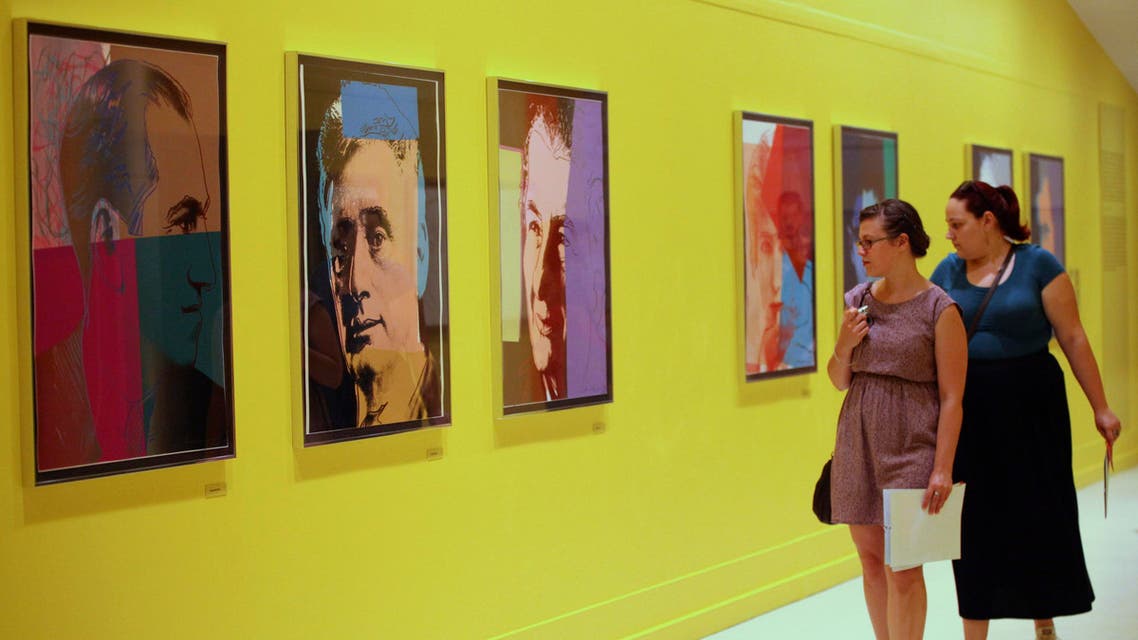 U.S. artist Warhol's soup cans seen in personal light at Turkish show
Twenty-seven years after his death, he is often exhibited, with two New York shows this past spring
A show of Andy Warhol's most evocative and familiar images at Istanbul's Pera Museum portrays the pop art great in a very personal light.

Opened by his nephew James Warhola, "Andy Warhol: Pop Art for Everyone", exhibits 87 of the Pittsburgh, Pennsylvania-born artist's works, including favorites like "Campbell's Soup," first created in 1962 and revisited over the years.

"As family, we saw him working on the early soup cans," Warhola, 59, said in an interview at the show's press viewing.

"We didn't understand what it meant, because we were just country people from Pittsburgh, but we knew it was important.

"It all started with the soup cans."

Ten soup can prints occupy an entire wall in the first gallery room at the Pera, the floor of which is dominated by massive pink metal letters spelling out the artist's name.

Warhol's career began as a graphic designer in advertising, and he was fascinated by the aesthetics of mass culture.

That flew in the face of the American art establishment of the time, and Warhol created much controversy before winning his place as one of the most important figures of art in the second half of the 20th Century.

Twenty-seven years after his death, he is often exhibited, with two New York shows this past spring.

He's also one of the top-selling. A silkscreen painting from his "fright wig" self-portraits from the 1980s sold for more than $30 million in June.

"In the years since his death, there have been so many shows, like every year, and in every major city in the world. He never showed this much in his lifetime," Warhola said.

"He was a famous illustrator, then a Pop artist, but at the time of his death he wasn't considered as important as he's become today."

Art for the masses

The pieces in the Pera show are on loan from the Zoya Museum in Modra, Slovakia, the country of his parents' birth. The Zoya claims the largest Warhol collection in central Europe.

"Pop Art for Everyone," running through July 20, offers a rare chance for outside audiences to see late-career series all in one show, such as "Endangered Species" from 1983, which depicts animals in Warhol's characteristic lurid colors with off-register line drawings, and the more sombre "Ten Portraits of Jews of the 20th Century," from 1980.
"He did a lot of series in his last decade at a time when his work was no longer considered that much of a breakthrough," said Warhola. "Now in recent years, we see these in a historical
view and realise he was still breaking ground in the '80s."

The Pera Museum, which opened in 2005, has helped bring work by history's best-known artists to Istanbul, once a backwater on the exhibition circuit. In the spring it hosted rare ceramics and engravings from another 20th-century master, Picasso.

At its latest show, the Pera highlights, as the most striking aspect, Warhol's bold use of color.

Set against neon-painted walls, garish portraits of Hollywood's John Wayne and Vladimir Lenin adorn the walls.

A portfolio of 10 works from "Flowers" also prove what an expert colourist Uncle Andy, as Warhola calls him, was.

Warhol dropped the "a" from his surname after finishing college and moving to New York "just because it was easier to say," said Warhola, an accomplished children's book illustrator who began drawing after seeing his uncle's fanciful designs for shoe advertisements.

Warhola offered a link between Istanbul and Warhol, who was raised in the Byzantine Catholic faith and found early inspiration in the gold-emblazoned icons adorning St. John Chrysostom Church in Pittsburgh.

"My uncle's interest in gold started in his illustration work from the 50s, and it led up through his pop art. It was from the icons that he used to see at church as a boy. He would stare at these wonderfully stylised figures from Byzantine art.

"In a way, it completes a circle to have his art end up back here in (the former Byzantine capital of) Istanbul shown in such a beautiful manner at this museum," he said.