Palestinian filmmaker Khalil Mozayen's latest work was already complexly layered - a movie within a movie about a director and screenwriter producing a film about an honor killing in the Gaza Strip.

Then the latest Gaza war burst in to add yet another layer: An Israeli airstrike leveled the 13-story apartment tower where Mozayen's office, studio and archive were located. So he filmed the mountain of rubble and used it for the final scene of his movie, "Sarah 2014."

Mozayen had hoped to create a film not connected to the Israeli-Palestinian conflict. But he and his screenwriter Naim al-Khatib said they decided they couldn't avoid addressing the war.

"It is like, as a Palestinian, you don't have the right to have your own dream, that everything in your life has to have something to do with war and (Israeli) occupation," said al-Khatib, who also plays the fictional screenwriter in the movie.

"The occupation crashed our privacy ... and the war became an integral part of the film's ending," he said.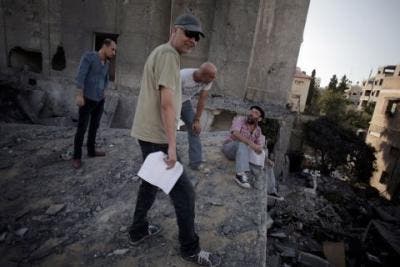 Palestinian filmmaker Khalil Mozayen,second right, speaks with a crew member during a rehearsal for his new movie in Gaza City, Sept. 5, 2014. (Photo courtesy: AP)
"You cannot love in Gaza"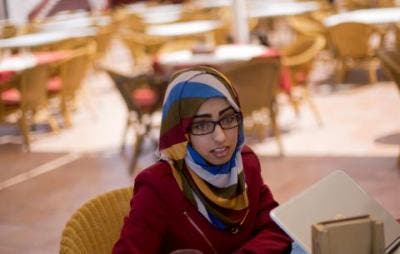 Palestinian Manal Miqdad, a 27-year-old poet, speaks to The Associated Press during an interview in Gaza City, Sept. 7, 2014 (Photo courtesy: AP)


The house was undamaged except for one item: a piano the family had received as a gift only a month earlier. Miqdad has been playing it just before the family fled. Now the keyboard and strings were ripped apart.

"It was obvious who did that," she said. Miqdad didn't elaborate, but music is generally frowned on by hard-line Islamists.

The pain and frustration came out in poetry Miqdad wrote in the latest war. She posted it on social media during the fighting and it quickly spread as online volunteers translated it into English, French and, significantly, Hebrew.

She was so terrified by the bombardment that she hardly left home, cooped up in a hall between the bathroom and the kitchen that the family deemed the safest place.

"Security in Gaza is to look for the safest spot in a dangerous place," she bitterly mused in one of her poems.

"In Gaza, how many times must we die to convince life that we deserve one?" she wrote. "And how many miracles do we need to defend our dreams and dignity?"

During the war, painter Basel al-Maqosui wanted to show the world something beyond the death and destruction.

"People outside will look at the gruesome images of Gaza's dead and wounded for a day, maybe two, but not longer," he said. "I wanted to give the world something they can look at day after day for as long as the war lasted."
A painter -turned-photographer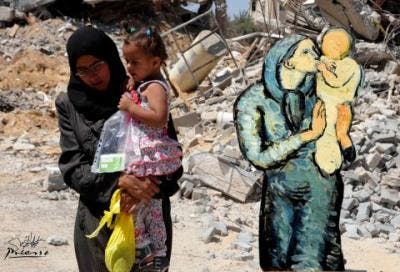 This image made available on Sunday, Sept. 7, 2014 by Palestinian artist Basel al-Maqosui, shows a collaboration of a famous painting by Spanish painter, Pablo Picasso, paired with a photograph taken by al-Maqosui of a woman carrying her child as she walks past damages after an Israeli Strike hit the Gaza Strip. (Photo courtesy: AP)


The artist, a 42-year-old father of five, took advantage of the brief reprieves in the fighting to photograph some of the most devastated parts of Gaza. He then paired them with images of some of the world's most famous paintings by Monet, Cezanne and Picasso and posted them on social media.

His work, along with similar production by other artists, attracted much attention in Gaza and abroad.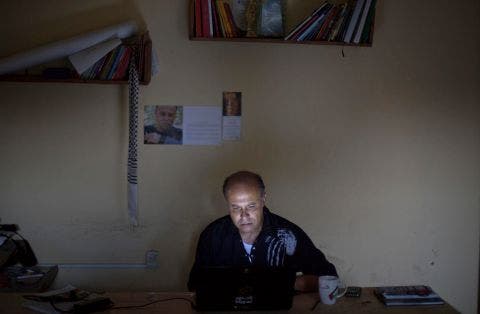 Palestinian painter Basel al-Maqosui, 42, works on a collage on his computer in his office in Gaza City, Sept. 7, 2014. (Photo courtesy: AP)
SHOW MORE
Last Update: Wednesday, 20 May 2020 KSA 09:43 - GMT 06:43