Saudi cities turn green and white for National Day
Celebrations were full swing on Tuesday morning, with firework celebrations planned later at night
Celebrating Saudi Arabia's 84th National Day on Tuesday, the kingdom's cities have been draped in green and white to mirror the colors nation's flag in what leaders of the kingdom have described as a "day of pride."
This year's anniversary is special as it comes at a time when the country has been witnessing impressive developments, Crown Prince Salman Bin Abdulaziz, deputy premier and minister of defense, said on Monday.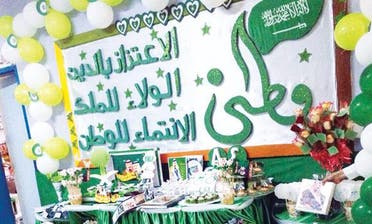 "We live in a stable country despite chaos in the region. We enjoy economic prosperity despite financial crises around us. We believe in strong future of our country and we are determined to forge ahead and face all challenges.
"We always stand by what is right even if that makes some angry. Our positions are truthful. Our goal is to be in the forefront because we believe in our youth. Our main mission today is to join forces to project the true image of Islam which has been distorted by the forces of darkness," Prince Salman was quoted as saying in the Saudi Gazette.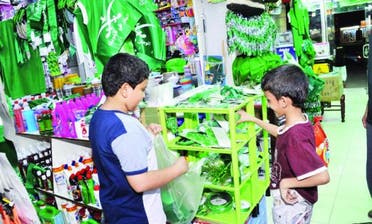 Meanwhile, Deputy Crown Prince Muqrin Bin Abdulaziz said: "We will preserve the glory of the country and keep it alive for the next generations. The country has seen sweeping development in all fields."
There was also praise for the kingdom's "comprehensive developments" in fields including health, economy and living standards in all regions of the country, interior minister Prince Muhammad Bin Naif said.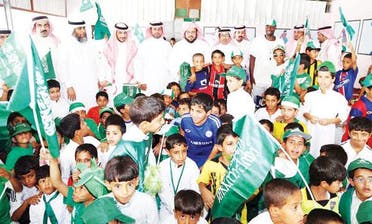 There has also been a major focus on youth development.
"We have invested in youth because they are the pillars on which development is based. Hundreds of thousands of youth have been sent abroad to study," Emir of Makkah Prince Mishal Bin Abdullah.
Celebrations were full swing on Tuesday morning, with firework celebrations planned later at night.
Students in the capital Riyadh dressed in green and white.
"It symbolizes growth, new life and peace. It represents spring, youth and determination, which makes us feel great about our beloved Kingdom," one student told local newspaper Arab News.