Egypt completes restoration of famed Coptic Hanging Church
The Hanging Church was been established on the ruins of a 2nd century Roman fortress from which it gained its name
Egypt's 1,300-year-old Hanging Church has on Saturday opened its doors once again to visitors, after the culmination of an over one-and-a-half decade restoration.
The Egyptian prime minister and Pope Tawadros II of Alexandria on Saturday attended the opening ceremony of the Hanging Church - also known as St. Virgin Mary's Coptic Church - marking the end of a $5.4 million restoration project.
The Hanging Church has been established on the ruins of a 2nd century Roman fortress from which it gained its name, the suspended, or al-Moallaqa in Arabic.
Egypt's Antiquities Minister Mamdouh Eldamaty told Al Arabiya News that due to the church's significance, its meticulous restoration process had to be "studied very well" to ensure it was true to its historic roots.
"Considered to be one of the oldest Egyptian churches, the Hanging Church beholds a special status and has been the seat of the Coptic pope from the 7th to the 13th century," Eldamaty said.
"It deserves attention and its restoration process had to be studied very well," he added.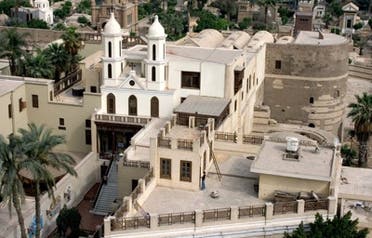 Several phases
The restoration process took around 16 years, where it was carried out on several phases to reduce water leakage and reinforce the church's foundations. It also included the restoration of the church's decorations and icons.
The church has a unique Byzantine architectural style and features a wooden roof in the shape of Noah's ark.
It is located at a complex that houses the Amr Ibn al-Aass Mosque, the first mosque built in Cairo, along with the Ben Ezra Synagogue, one of Cairo's oldest Jewish centers of worship.
"To us Coptic Egyptians, the church beholds a special status. It has a unique design and has been was the seat of the Coptic pope for years," said Amir Ramzy, a Coptic Egyptian counselor.
"It is important step in the Egyptian state's bid to preserve heritage of importance to humanity," said Sameh Mahrous, a Coptic journalist, added to Al Arabiya News.