In new mystery, second Libyan statue 'vanishes' into thin air
Last week, an iconic bronze statue, known locally as "the gazelle" also disappeared
A historic Libyan statue of Omar al-Mukhtar mysteriously disappeared days following the vanishing of another statue, an official in Libya's Antiquities Authority said Sunday, according to Agence France-Presse.
Omar al-Mukhtar, who was a hero and the leader of the Libyan resistance against Italy in the 1920's and 30's, had his statue located in front of the headquarters of the municipal council of Al-Maya region on the coastal road west of Tripoli.
The archaeological statue disappeared in mysterious circumstances," an official, who spoke on condition of anonymity, said.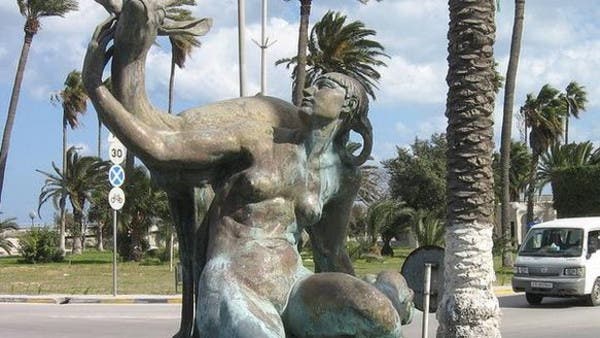 "Siimilar [circumstances] to the ones in which another archaeological statue, known the gazelle statue, one of the most important historical monuments located in downtown Tripoli, disappeared," he added.
Last week, an iconic bronze statue, known locally as "the gazelle" for its depiction of a nude stroking the animal also disappeared.
The statue, sculpted by an Italian artist in the early 1930s when Libya was an Italian colony, was damaged last month after being struck by a stray rocket.
Armed militia had threated to destroy the sculpture, as well as the capital's many cultural artifacts.
Libyan authorities have struggled to assert control across a country awash with weapons and powerful militias which ousted longtime autocratic leader Muammar Qaddafi in a 2011 revolt.