2,500-year-old Egyptian boy mummy restored in Chicago
The mummy is part of the museum's collection of 30 complete human mummies from Egypt
Conservation work has started at Chicago's Field Museum on the 2,500-year-old mummy of a 14-year-old Egyptian boy.

Scientists opened the coffin last week.
The boy, named Minirdis, was the son of a priest. Conservators are hoping to stabilize the mummy and coffin so they can travel in the exhibit "Mummies: Images of the Afterlife," which is expected to open in Los Angeles in September.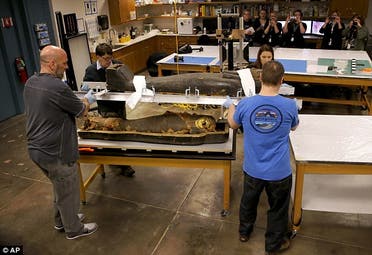 Specifically, conservators are creating wood pieces to repair broken sections of the coffin. They're also using new linen to fill holes and gaps in the death mask.

The Field Museum has had the mummy since the 1920s.
It's part of the museum's collection of 30 complete human mummies from Egypt.