Florentine art schools: A magnet for Middle Eastern design students
Among the places that attract these students is the Instituto Europa de Design, where a large number of pupils from the Middle East study
Thousands of students from all over the world flock to Florence, as the city's bustling and centuries-old arts and architecture scene continues to flourish.
Among the places that attract these students is the Instituto Europa de Design (IED), where a large number of pupils from the Middle East study, the director of the Florence campus said.
"We would like to grow as well in terms of cultural exchange, we don't know enough, and maybe Middle Eastern students don't know enough too," Alessandro Colombo told Al Arabiya News.
Steffi Gemayel, a 20-year-old Lebanese designer, is one of the many Middle Eastern students studying in Florence.
"Florence is full of art and architecture, the city inspires you… the city inspires me with my projects and everything," the fashion communication and marketing student told Al Arabiya News.
Having grown up in Beirut, Gemayel said the seaside city inspired her jewelry designs, a project she worked on before coming to Florence.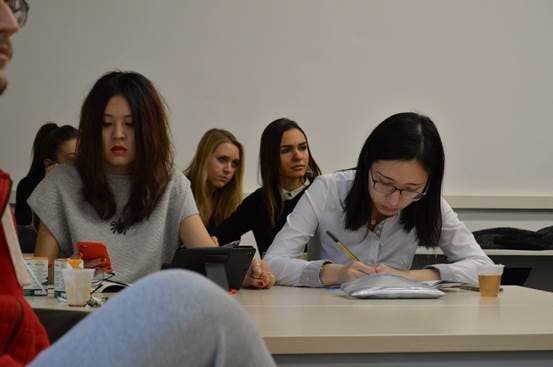 "I used to travel a lot [in Lebanon] when I was a kid, everything inspired me with my decisions, especially the Lebanese culture, the habits, how we live, the people around, everybody influences each other," she said.
However, she pointed out how the creative atmosphere and the people that surrounded her in Florence helped her with her projects.
Italian ambience
"Here it is different, Italy, the ambience, the people around, helps."
Gemayel said she would like to one day establish her own fashion brand in Lebanon.
"I hope to go back to the Middle East, I would like to have my own brand, as a designer, jewelry, clothes," she added.
Gemayel is one of many students who have brought her heritage into her work at the institute.
"I saw amazing works," he said commenting about the creations by students hailing from the Middle East.
"Especially in portfolios of people from Iran, [there is] an incredible use of the Persian language not only as a language but also in an aesthetic way with a contemporary approach of the Persian writing, it's absolutely wonderful."
Colombo said that his administration plans on increasing the number of international students.
"Our next step is to improve collaboration with international companies," he said.
"We want to get better in international talent recruitment, we want to make sure an Indian company, a Turkish company and an Iranian company and call us and say 'do you have any talented Iranian students?'"
The school plans to expand its connections with companies and educational institutions in the Middle East, which includes expanding upon already established relations.
IED has already had collaborations with schools in Lebanon and Turkey, and part of its aim is to expand into other countries in the region.