DC Comics responds to girl's call for more female superheroes
Last month, 11-year-old Rowan Hansen of Champaign, Illinois, wrote a letter DC Comics to express her disappointment about the absence of female superheroes
In this day and age, even fifth-graders can make themselves heard.
Last month, 11-year-old Rowan Hansen of Champaign, Illinois, wrote a letter to DC Comics to express her disappointment about how there are not enough female superheroes. The company has finally responded with a new female character: Rowan Hansen.
Styled as a costume-clad comic book character, DC Comics, whose characters include Superman, Batman and Wonder Woman, released a sketch of Rowan Hansen as a superheroin on Thursday, according to Today News.
"I have never really understood why they've had more male superheroes," Rowan told Today. "It's not like the male superheroes are better than the female superheroes. But there are just more of them."
Rowan wrote in last month's letter: "I love superheroes and have been reading comics and watching superhero cartoons and movies since I was very young."
She continued: "I'm a girl, and I'm upset because there aren't very many girl superheroes or movies and comics from DC."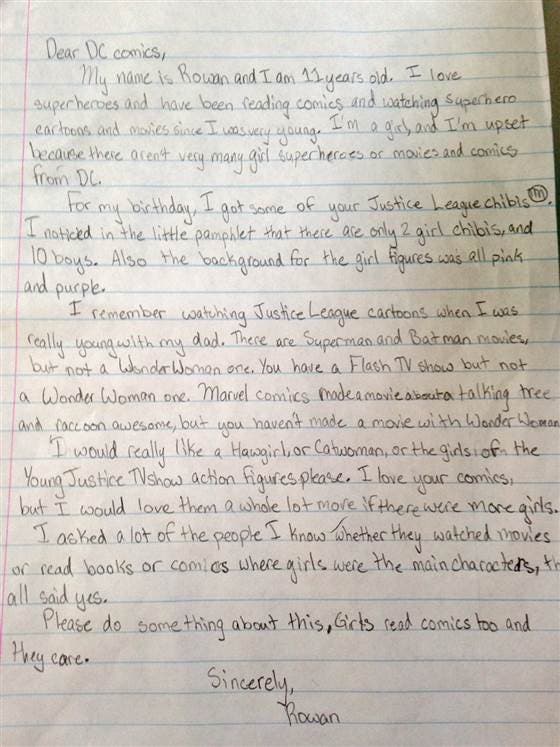 The letter, which was posted online by the fifth-grader's father, went viral on social media and sparked a debate about women's representation in the comics industry. So viral, that DC Comics had to tweet in response:
Thanks Rowan. We agree, we're working hard to create more superhero fun for girls!

— DC Comics (@DCComics) January 30, 2015
Yes Rowan, girls read comics too! Wonder Woman movie & Supergirl TV both in the works, with more exciting girl power announcements soon!

— DC Comics (@DCComics) January 30, 2015