Depth-defying art! 3D pavement paintings wow Dubai
The Dubai Canvas Festival has kicked off with an eye opening look into the world of 3D art
The Dubai Canvas Festival has kicked off with an eye opening look into the world of 3D art, depth-defying pavement illustrations that appear real enough to fall into.
Set to run from March 1-7, the festival is hosting renowned international artists, including Kurt Wenner, the inventor of 3D Art and former NASA scientific illustrator who spoke to Al Arabiya News about this optical illusion art form.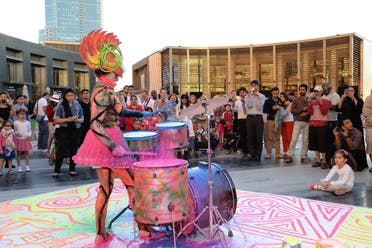 "3D pavement art has shown itself to be popular in every country. I think it will have a special flavor in the Islamic world once it has taken root," he said, referring to the possibility that Dubai could become a hub for pavement art.
Having worked for NASA, Wenner said that the sheer size of outer space had influenced his creation of this particular art form.
"It was a very great influence on me. In order to represent the vastness of outer space I utilized a perspective with a very wide angle of view. When I applied this perspective to my pavement works, the 3D style was born."
Among his other influences, the artist credits his "love for European Renaissance art and artist's geometry. I wanted to compose works in a contemporary environment that had the effect of the grand works I enjoyed in Italy."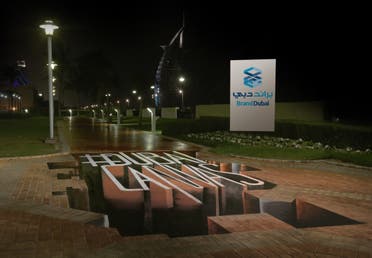 Wenner's art works enjoyed a royal audience on Tuesday, with a visit by UAE Vice President Sheikh Mohammed bin Rashid al-Maktoum to the outdoor art exhibition.
Is working in front of a royal audience, even an audience of his peers, nerve-wracking, however?
"There is no doubt that it is easier to work in the studio," Wenner responds. "[However] I am quite used the public and it often gives me good energy to have an audience. Noise and harsh lighting are more problematic."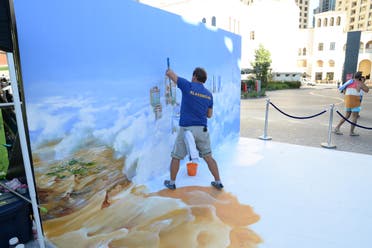 The festival is also hosting other pioneering artists; Peter Westerink, founder and director of Planet Streetpainting, Mexican artist Juandres Vera, Italian artist Anthony Cappetto and American artist Julie Kirk Purcell among others.
But shining a spotlight on these talents isn't the only aim behind the festival.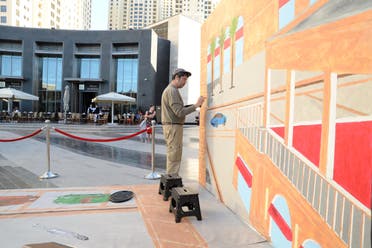 Organizers told Al Arabiya News that they hope to foster and encourage local talent with the show, "that is why we also partnered with the culture office to broaden the database [of artists]."
The event, which was organized by Brand Dubai, a subsidiary of the Government of Dubai Media Office, is taking place at The Beach, Jumeirah Beach Residence in Dubai and aims to support the vision of transforming the city into an open air museum.