Art Dubai 2015: Fine art, fun art and everything in-between
Here are the highlights of Art Dubai 2015; the sequined, the paint-splashed and the downright dramatic
Art Dubai has become known for its patchwork of creative offerings, attracting galleries from around the world to show off what they have to offer. In its ninth edition, this year the fair is the largest and most international it has ever been, boasting everything from violently slashed canvases to painstakingly crafted lattice work.
Al Arabiya News presents the artistic highlights of Art Dubai 2015; the sequined, the paint-splashed and the downright dramatic.
In its offering, Bangalore-based GallerySke showcased an exquisite piece by Indian artist Avinash Veeraghavan.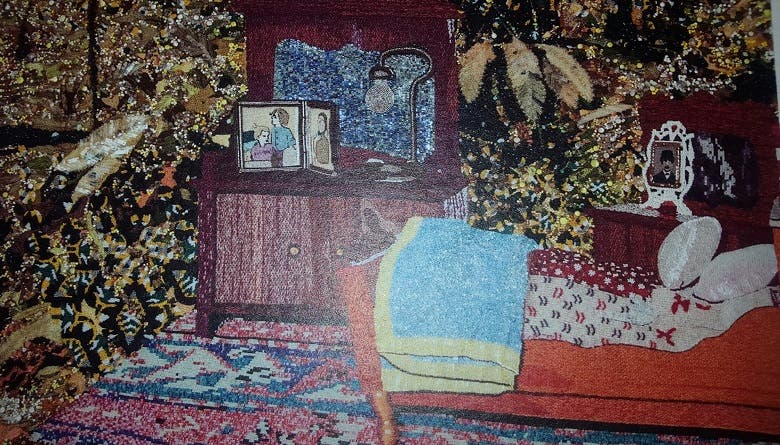 The finely beaded bedroom scene depicts a child's bed, complete with a nursery-book-blue quilt and framed family pictures.
The comforting scene is set against the backdrop of a lush, bejeweled jungle because the artist wanted to "create this contrast of the intimate domestic space and the mystical unknown, the forest," a gallery representative told Al Arabiya News.
"He's a young artist based in Bangalore and he often works with these complex, hybrid collages," she added.
"In this piece he is thinking about the idea of fantasy and storytelling… He has chosen embroidery because of the association with storytelling - how weaving and storytelling can go hand in hand."
Visitors can then wind their way past what seems to be a caked, charred petrol pump on to large, wall-mounted renderings of Snoopy, Charlie Brown's pet dog in the comic strip "Peanuts."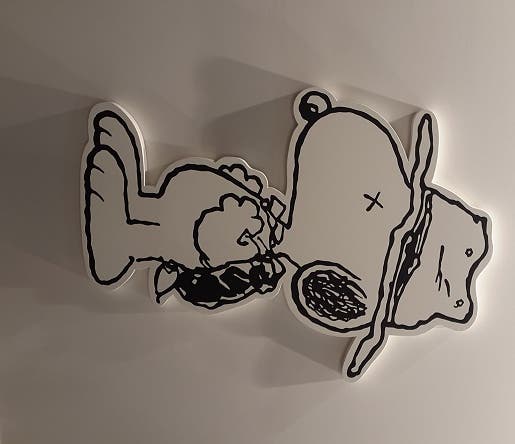 Worked-up by New York-based artist KAWS, the Snoopy paintings are "stylized adaptations of icons of American animation [by which the artist] accesses a collective consciousness to mirror out addiction to the culture industry," a gallery representative told Al Arabiya News.
Seconds later, the representative cuts through conversation in a panic as a child runs too close for comfort up to the blown-up Snoopy, initially a child's pastime but who now seems to find himself mounted and untouchable.
Mere steps away, laymen and experts alike all paused to take in the Anila Quayyum Agha's intricately carved lattice box which, due to a single light piercing through from its center, throws delicate Arabesque shadows on to the surrounding walls and floor.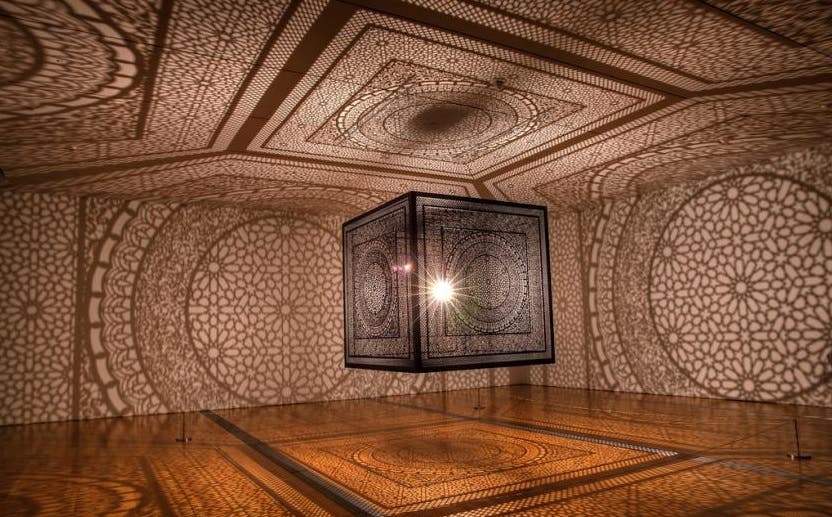 "Having lived on the boundaries of different faiths such as Islam and Christianity, and in cultures like Pakistan and the USA, Anila's art is deeply influenced by the simultaneous sense of alienation and transience that informs the migrant experience," Jana Suhani Soin of New York's Aicon Gallery told Al Arabiya News.
The delicate craftwork on display pays homage to women's handiwork in her native country.
"Her experiences in her native country and as an immigrant here in the United States are woven into her work of redefining and rewriting women's handiwork as a poignant form of creative expression," the gallery representative added.
Particularly popular with visitors were two works on display in the WHATIFTHEWORLD gallery booth from Cape Town.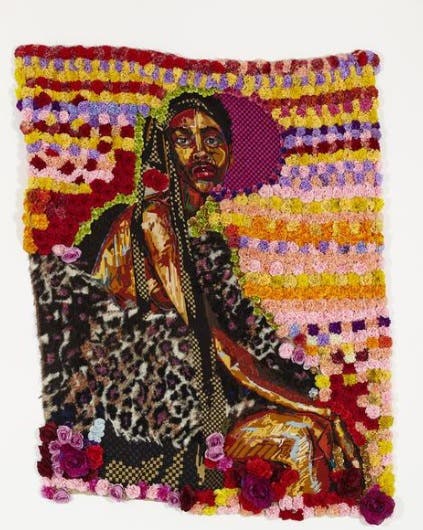 Both works by artist Athi-Patra Ruga were explosions of color which stood out among the rather bland, brown hues of neighboring gallery booths. The gallery was a veritable candy-laden sweetshop in a row of hardware stores, attracting onlookers with its sharp bubblegum colors and surrealist imagery.
The first piece, called "...Man Hostage. Uddermaker" (2014), depicts a black man on a leopard printed chair, surrounded by multi-hued artificial flowers in a fluffy tapestry that caught the eye of many.
Next, a cartoon-style snap with a zebra at its center. Mounted by a torso-less pair of pink stocking-clad legs and a plume of bright balloons. All this set against a rainforest and cobalt night sky.
"Exploring the border zones between fashion, performance and contemporary art, Athi-Patra Ruga makes work bursting with eclectic multi-cultuiral references, carnal sensuality and a dislocated undercurrent of humor," the gallery stated on a postcard.
Art Dubai features three gallery programs— Contemporary, Modern and Marker—offering audiences the opportunity to discover the work of more than 500 artists through histories and across geographies. In 2015, Art Dubai welcomed 92 participating galleries from 39 countries and is set to run until March 21.