Saudi sisters launch Middle East's first cat café in Dubai
The concept debuted in Asia, with the very first "cat café" opening in Taiwan back in 1998
The concept debuted in Asia, with the very first "cat café" opening in Taiwan back in 1998. This was followed by similar outlets in countries, including Japan – which saw the launch of a staggering 79 coffee shops between 2005 and 2010 – as well as South Korea.
Fast forward 17 years later, and the kitty coffee shop phenomenon – where customers book a table to have coffee and snacks - while enjoying the company of cats – is showing no signs of slowing down. Venues are popping up all across the world – from Europe to North America – and now, the United Arab Emirates can lay claim to the Middle East's first cat café thanks to two entrepreneurs.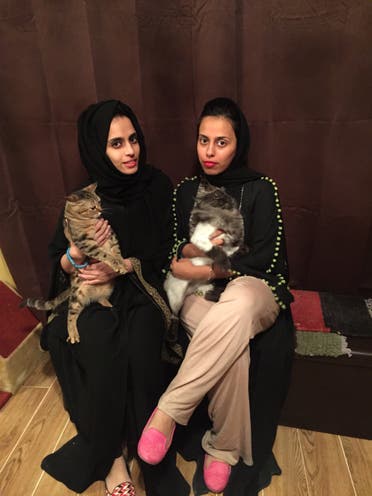 The brainchild of Jeddah-born, Dubai-based Iman and Allaa Ahmed Bin Farid al-Aulaqi, Ailuromania Café opened on Thursday. This marks the first business venture for the animal loving duo, who both recently graduated from university (Iman is 23 and studied finance, while Allaa is a year older and studied marketing). The word "ailuromania" is defined as "an intense enthusiasm for having many cats around" and following just over a year of planning, the Saudi sisters tell us that they couldn't have asked for a better project. Al Arabiya News chatted to Iman to find out more.

First of all, what made you decide on a cat café?
Generally, we have been obsessed with cats since we were very young. And basically, we were graduating from college and looking for a business idea. We wanted to do something, but we were not quite sure what the idea was or what we wanted to do. Shortly after my friend sent me an image of a cat café in South Korea, and she said: "Why not consider this? It'd be fun!" I realized that it combined work with my passion for cats, so it just clicked.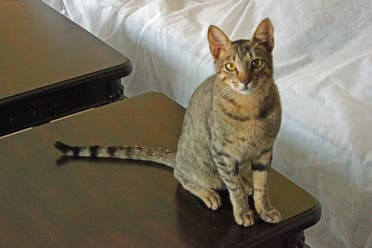 Did you experience any challenges setting up the business?
It was very difficult, especially finding the right location, because we wanted something that's cozy as it's a home for the cats. It took me six months to find this [Jumeirah Beach Road] location, but after that the approvals were pretty quick, and we moved forward pretty quickly. The construction, however, took forever. I was expecting it to take two months, but it ended up taking eight. It's also extra hard when you are a woman, because the construction workers talk to you as if you are an alien. It wasn't a very pleasant experience.
What was the kind of feedback that you got from the authorities? I'm sure you witnessed a few raised eyebrows…
(Laughs) They were surprised. At the beginning, they had to do special rules for me, so that took a bit of time, but that's normal because it is a new idea. I remember the first time I went to speak with the health director, he was a little puzzled with the concept of cats and coffee, and so I explained it to him. So I showed him how it existed all over the world, and when I told him about the concept, he was very excited about it. It was a little weird and everyone was laughing, but they got it.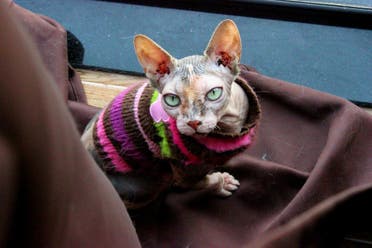 Has the staff received specific training?
Yes, we invested a lot of time in finding the right employees and training them, because you obviously have to find individuals who love and can work with cats, and surprisingly, it was very hard to find the right people straightaway. Part of the interview process involved us bringing potential employees in to the cat area to see how they interacted with the cats... It's easy to say that you like cats, but it's another to see how people interact with them. Our team really, really love cats.
So tell us more about the cats in Ailuromania.
Most of them are adopted, while a few of them were ones that I sought out, as I really wanted a Sphinx cat, I got another one as a gift from a friend who knew I was opening a cat cafe. And some of them I even found on the street myself and rescued them. At the moment, we have a total of 14 cats living in the café, and each one has their own space in a living area that customers cannot access.
Do you plan on introducing more?
At this point, no. Because cats are not like dogs; it takes them a while to adapt to each other. You have to do a slow introduction and even then they start hissing, so it's quite difficult to get them used to each other. So I think at this point I wouldn't be adopting more. However, if I find a cat that's really in need, I know I wouldn't be able to resist!
However, we're also planning on working with animal shelters so we can put up pictures of cats that can be adopted.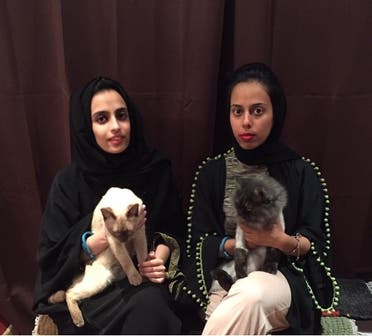 Did the municipality impose a limit on how many cats you can accommodate?
Yes, each cat needs to have a minimum space of one square meter, but the place is 200sqm. So there's no problem if I add more, but at the moment, I think they're enough.
You're running an online booking system for reservations. How long do customers get with their feline friends?
For us, we don't want to be very strict with the bookings, but we don't want people to turn up either and have no space, so we have an online booking portal where people can reserve before coming. We're limiting the experience to a one-hour time frame [in the cat area, the other open areas and tables that are not accompanied by the cats are unlimited]. We are serving coffee and food as well. Some of the cats will try to jump on the table and try and eat the food, but it's normal. If you are a cat lover, you'll be fine, you won't actually mind. But people who feel uncomfortable dining with them can eat in the non-cat section.
Is the food you are serving safe for kitty consumption?
No, customers aren't allowed to feed the cats, and we will have a list of all the foods shouldn't eat at all. But interestingly, if something is not good for a cat, they actually don't go near it. So I think they know what they can and what they cannot eat.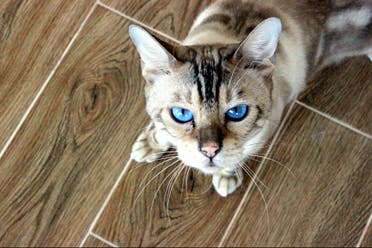 You and Allaa are part of a new wave of young, Khaleeji entrepreneurs who are launching unique concepts in the UAE. What's driving everyone at the moment?
It started out with one person, and it became successful, and so it encouraged others and got them motivated to start their own thing. When you see it, you get excited and want to do it yourself. But for us, honestly, it is because our parents are really supportive and they always pushed us to do something while we can. I graduated only last year, so that's the reason behind the timing. But since we were little, we have always had exposure to the business world, helping our parents with their businesses. So I feel like I had good exposure prior to starting.
What advice do you have to other potential start-up owners?
If you have the chance to do it, then jump in with two feet. Because honestly, you might regret it later and say 'What if'. If you can do it, then it is definitely worth the risk.