'Walk a Mile in Her Shoes' Beirut march against domestic violence
A fundraiser held was held in Beirut on Sunday for the domestic violence cause.
The internationally known "Walk a Mile in Her Shoes" event took place in Beirut, for the first time in the Middle East, on Sunday.
The march is held in recognition of female victims of domestic abuse, where men are required to walk in red high heeled shoes, according to the Daily Star Lebanon newspaper.
Over 200 men gathered bearing red heels for the march, and holding banners reading "Silence hides violence" and "Smash violence under your heels" amongst others, the newspaper said.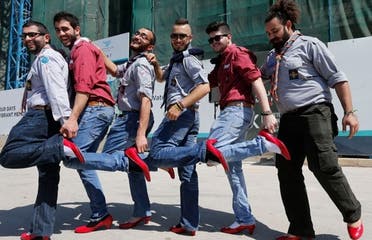 The event was organized as a fundraiser for KAFA Women's rights organization (Enough Violence and Exploitation), with funds coming from the sale of heels to men taking part, the report added.
There was also a blood drive and musical performances regarding abuse against women as a part of the event.