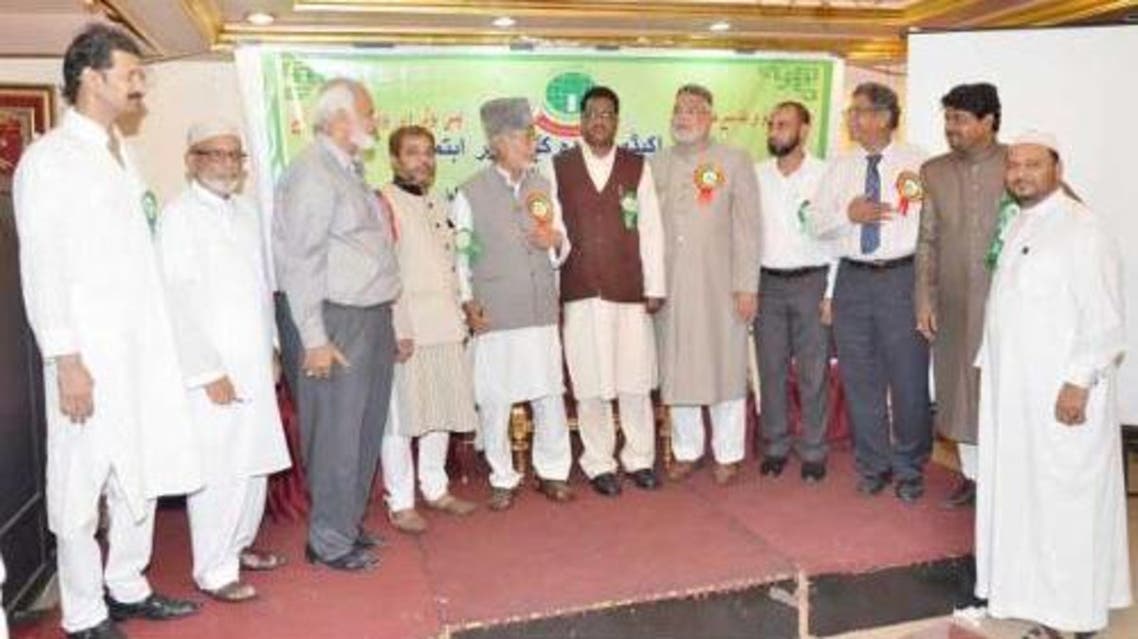 Urdu 'gaining ground' in Saudi Arabia
The Urdu Academy promotes the learning of the Urdu language, which is gaining popularity.
The Urdu Academy, Jeddah, recently organized its 5th quarterly program dubbed "Aoa Urdu Seikhien (Let's Learn Urdu) recently. The initiative to promote the Urdu language was a follow-up of events that took place in 2014.
"The Urdu language is spreading all over the world and its popularity is gaining ground in the Kingdom of Saudi Arabia. It is interesting to note that many expatriates and a number of Saudi nationals are being drawn to this language and have started to understand the poetry, literature and culture of Urdu," said chief guest Ghulam Yazdani, an advocate from Hyderabad.
The program was presided over by Syed Jamalullah Qadri while poets Qabil Hyderabadi and Taj Muztar were the guests of honor.
In his welcome address Jamal Qadri, president of Urdu Academy, said, "We are advancing with optimism and will never succumb to the views of those who always criticize and talk about Urdu's downfall."
He underlined his academy's determination to spread Urdu back in India from Hyderabad, which he considered the city of Urdu.
"Similarly, we are doing everything possible to spread Urdu in Jeddah and make it a city of love and culture," Qadri said.
Guest of honor Abul Hasan Qabil Hyderabadi read his poems, which were received by the audience with applause.
Representatives of several social and community organizations in Jeddah spoke on various topics related to the language.
Dr. Aleem Khan Falki, president of Socio Reforms Society, talked on "The secrets of speech for Urdu orators".
Falki said, "A speaker should first decide what is to be said. Secondly, he should conclude his speech before the given time. Even a good orator must prepare well and stick to the relevant topic."
Yousufuddin Amjad of Bazm-e-Ittihad spoke about "How to serve our mother tongue Urdu".
He said, "One cannot claim serving Urdu just by organizing yearly Mushairas (poetry sessions) or gatherings with Urdu personalities. Charity begins at home, so each Urdu lover must take his responsibility individually and start its promotion from his home."
He praised Urdu Academy Jeddah for consistently organizing quarterly programs to promote the language.
Qadri paid tribute to the luminaries of Urdu who wrote several Islamic books and said the responsibility now lies on the shoulders of the coming generation to protect these treasures by mastering the language.
President of India Forum Aijaz Khan expressed his satisfaction with the ongoing activities of Urdu Academy under the guidance of Asif Samdani, who has devoted his life to serve the poor students of Urdu schools.
While appreciating the teamwork of the academy, he suggested to involve like-minded organizations to make the programs more productive and successful.
President of United Telangana Forum Abdul Jabbar spoke about "Urdu as a compulsory subject in the schools of Telangana".
"Urdu is a symbol of our civilization and it was due to this well-founded status, a Urdu culture developed in Hyderabad, where Hindus, Muslims, Sikhs and Christians lived in harmony. With the revival of this Ganga-Yamuna Civilization, the Telangana government can maintain communal harmony," Abdul Jabbar said.
He demanded the government to issue orders to make Urdu as a compulsory language in all schools in the state and appoint qualified teachers to improve the educational standard. He asked all Urdu lovers to come forward and raise awareness in the community to remove the misconception of a dark future if the language was taught in schools.
President of Khak-e-Taiba Trust Ahmed Abdul Hakeem spoke on "the use of Urdu in computer". He said: "Computer has no language. It understands the language of signs and we can develop any language for use in computers. Computer is an innocent and intelligent machine and gives results according to our wishes and commands."
Abdul Razzak, general secretary of Deccan NRIs Group, congratulated the academy for organizing a very enlightening and successful program and assured all possible help from his organization.
President of Twin Cities Welfare Society and prominent social activist S.K. Viqaruddin spoke on "Transfer of Urdu culture to the new generation"; Chairman of Noor Education Society Zaheeruddin spoke about "Promotion of Urdu in English medium schools"; and Khaleel Ahmed of Izhaar Urdu Toast Master Club discussed "How to promote Urdu among coming generations".
President of Indian Engineers Forum Sayeeduddin spoke on "Promotion of Urdu language in Jeddah schools".
He said awareness should be raised among parents about the benefits teaching Urdu to their children. "The academy alone cannot do this job," he said, and appealed to all community organizations to come forward with valuable suggestions.
He also requested teachers and responsible persons in schools whose mother tongue is Urdu to play a vital role in promoting Urdu among parents.
Arif Masood Siddiqui mesmerized the audience with a humorous poem by Gilli Nalgondawi.
Jamal Qadri highlighted in a presentation, the recent activities of Urdu Academy in Hyderabad.
More than 20 people took part in a computerized quiz program, "Spell the correct word," designed by Abdulsattar Khan and presented by Liaqat Ali Khan.
Program Coordinator Khalid Husain, Riyaz Ahmed, and Munawar Ali Khan presented prizes to winners instantly. Abdulsattar Khan conducted the program.
This was first published by the Saudi Gazette.