What do Ramadan, Vimto and 'Game of Thrones' have in common?
"Ramadan is coming," reads a popular meme which this year has been circulating on Arab social media
"Ramadan is coming," reads a popular meme which this year has been circulating on Arab social media. Punning on a catchphrase from hit HBO program Game of Thrones - "winter is coming" - this fan-created meme has been amusing Muslims and non-Muslims alike.
It might surprise you to hear that Game of Thrones is not only popular but also publicly advertised in Middle Eastern countries - even in conservative Saudi Arabia. But if you're British, you might be even more surprised to see a bottle of Vimto in another widely circulated meme. Vimto?!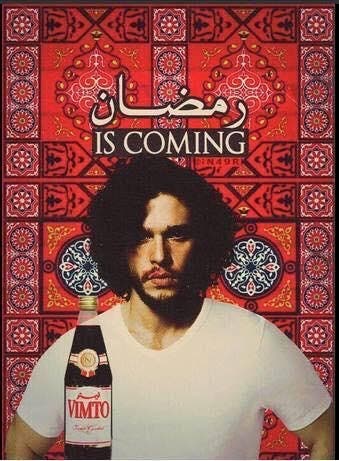 Vimto was created in 1908 by the Nichols family in Cheshire, England. Made from grapes, blackcurrants and raspberries, the drink was first served in non-alcoholic "temperance bars" in the north of England. The prefix "vim" comes from the Latin "via", meaning "strength", and the drink was originally marketed as such.
In the UK today, Vimto is chiefly aimed at kids and teens, and marketed with tongue-in-cheek ad campaigns. About 79 percent of sales are generated in the UK, the Middle East is now the biggest market for Vimto outside the UK.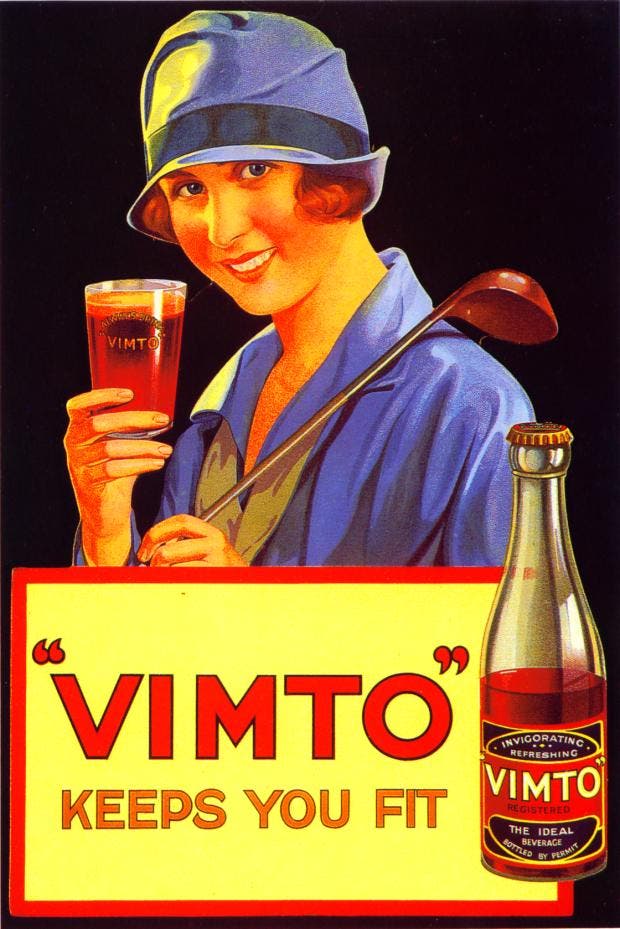 Vimto was first exported to the Arab region in 1928. "Due to the hot climate, the beverage market has always been significantly large in this region," writes Al Arabiya News' Editor-in-Chief Faisal Abbas for the Huffpost. "Also, at the time Vimto first arrived, very few people had refrigerators; hence a sweet, cordial and hassle-free drink would have been a natural choice."
Vimto is popular in Ramadan
During Ramadan, Muslims are required to fast during daylight hours - between the dawn (fajr) prayers and the Maghrib (sunset) prayers. In Saudi Arabia, drinking a glass of Vimto at Iftar (the breaking of the fast) is now a tradition as strongly associated with Ramadan as stockings are with Christmas in the U.K. and the U.S.
A Saudi joked that "if the Vimto isn't finished by Eid Al-Fitr (the end-of-Ramadan celebration) then you'd better keep fasting!" This habit translates into a lucrative market - approximately half of Vimto Arabia's annual sales occur during the Ramadan period, according to their website.
Before Ramadan, supermarkets pile up huge towers of Vimto, encouraging people to buy by the crate. There are even cooking shows on YouTube demonstrating interesting new ways to break your fast with Vimto.
When asked whether they'll be drinking Vimto this Ramadan, people from Arab countries usually respond with a smile and a nod. Most commonly, people like a glass of Vimto and a few dates at the breaking of the fast because they give an energy boost of sugar.
Sweeter in the Mideast
In the Arab region, Vimto is often served sweeter than in the UK because it is manufactured as a double-strength cordial. In the days when Vimto was exported to Arabia from England, this was an economic decision - shipping extra water was a waste of money.
Since the 1970s, Arabian Vimto has been manufactured by Aujan beverages in Dammam, Saudi Arabia, but the traditional strength of the drink has been maintained.
Not only the drink's strength, but also the entire marketing strategy is different for Arabian Vimto.
The packaging is classier, featuring a glass bottle with ruby lettering and gold trim. This is a far cry from the plastic bottle and cartoon fruit explosion on the label of the British version.
This year, at Bloomingdales in the Dubai Mall, you can even buy a personalized Vimto bottle with your name on the label, a PR move supported on social media by the hashtag #MyVimto.
Personalized Vimto bottles are available this year
The difference in branding ties into Vimto's history in the region, as it opened up to international trade. There was a "need for a 'grown-up' drink in a market where selling alcoholic drinks is either forbidden (such as in Saudi Arabia) or frowned upon," writes Abbas.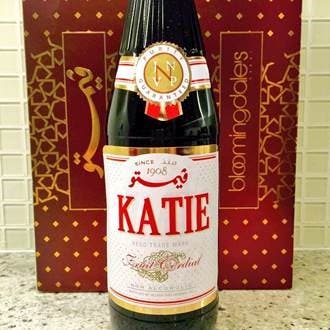 Another major difference in the Middle Eastern marketing strategy is that Vimto is consciously positioned as a "Ramadan Drink." Ramadan is a time of togetherness for families - something which has become increasingly valued in the age of smartphones and the Internet - and Vimto pick up on this in their ad campaigns.
Approximately half of Mideast sales occur during Ramadan
This year on social media the marketing team have promoted the hashtag #VimtoComeTogether, to emphasize the way in which the drink is associated with gatherings with our loved ones.
They have created a series of videos showing how Ramadan halts the hectic pace of modern life - a change of course signaled by the cracking open of a bottle of Vimto.
Last year the theme was #VimtoBringThemHome, a campaign which bought flights for a few lucky winners to return to their families for Ramadan.
Other recent campaigns have also focused on togetherness, as well as the sweetness of the drink, with slogans such as "sweeter together - sweetest memories for life" (2011), "Vimto becomes sweeter over generations" (2010), and "with Vimto, gatherings are sweeter" (2006).
In the UK, many Britons, unaware of the significance of the drink for Muslims, are buying cans of fizzy Vimto after chuckling at ads such as this:
Although the cordial-based version of Vimto is not widely known amongst British non-Muslims, it isn't hard to find in the UK during Ramadan. Supermarkets on London's Edgware Road, an area with a strong Muslim influence, buy in a big stock to cater to demand.
And Vimto isn't just drunk in the homes of the diaspora community - restaurants offer special Iftar meal deals - of course, a jug of Vimto cordial is included.
With business booming, Meshal Alkadeeb, Vice President of strategy and business development says that the challenge is to ensure that the younger generation continue the Ramadan Vimto tradition - but judging by the below video from popular Saudi YouTube channel Telfaz.tv, Vimto holds a special place in hearts both young and old.