Architect designs static pods to house London's homeless
A British architect has designed plywood pods aimed at accommodating the British capital's homeless
A British architect has designed plywood pods aimed at accommodating the British capital's homeless, and was awarded a prize for his concept.
James Furzer, 26, designed the off-the-ground pods that are attached to standing buildings and are equipped with a mattress, living area, and space to place belongings.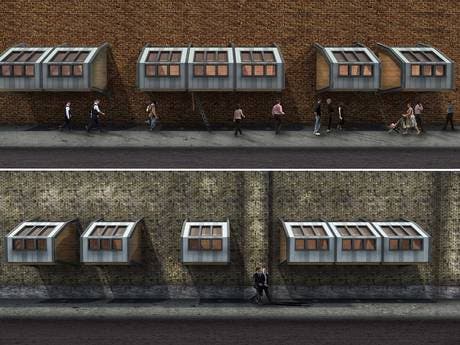 According to UK paper The Independent, Furzer said that he was motivated to design the pods after he saw rows of steel spikes placed in some areas of the British capital to prevent the homeless from sleeping there.
"It is a shelter from not only the harsh and unpredictable weather conditions of Britain, but a shelter from the general public who feel the homeless should be frowned upon and mistreated," the architect said, according to the Daily Mail.
"It's time we changed our attitudes towards homeless people. They have the right to be treated with the same respect as anyone else. After all, it could happen to any of us," he commented.
Furzer scooped up the top prize in the competition, which was organized by a roofing manufacturer. He was awarded $5,500.