How a rural theater group fights for Turkish women's rights
Ummiye Kocak had to drop out of formal education after primary school due to her family's limited financial resources
Born in 1957 to a family with 10 siblings in a small village in Turkey's southern city of Adana, Ummiye Kocak had to drop out of formal education after primary school due to her family's limited financial resources.
But, such hindrances never stopped her from expanding her knowledge. During her childhood, she began reading books and started with Maxim Gorky's 1906 novel "The Mother" which tells the story of revolutionary factory workers.
Reading books in a village that had no library, for a lady whose name "ummi" means "illiterate" in Arabic, required great effort including asking people to lend her books.
Then she got married and moved to a small remote village on the outskirts of the southern city of Mersin in the midst of the Taurus mountains. One day, a mobile theatre group stopped by the village. After the play ended, she asked an actor his name and she was surprised to realize that his real name was not the same as his stage name.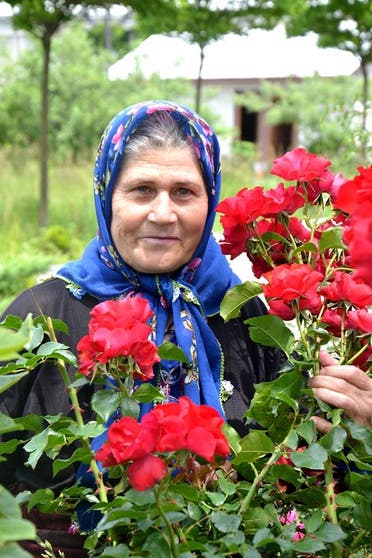 "I kept turning it over in my head about how I can use theatre to initiate a local change in my village with rural women I know," Kocak told Al Arabiya English.
This experience was a real kick-starter for her to create a brand-new narrative based on the lives of people she knew and on real-life rural problems but using nicknames so as not to violate people's privacy.
Thereafter, as a farmworker with a primary school education, she founded in 2001 Arslankoy Women's Theatre Group not only for empowering rural women like herself, but also for pointing out rural problems and providing local women with a voice to express themselves.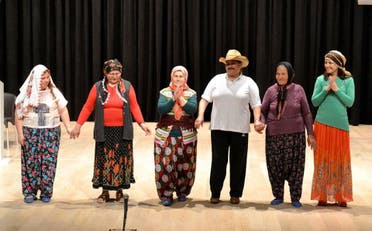 To some extent, this initiative offers an opportunity to overcome the geographical and sociological isolation of the villagers, while also showing what women - some who could barely read and write - can achieve at the local level when given a chance.
But it was not so easy to convince local women with no theatre experience to be part of her project. Initially, some husbands didn't allow their wives to participate in the group, but those naysayers motivated her to search for more women to join the theatre group.
Nowadays, it is the turn of the husbands to ask her to include their wives in the theatre group.
The amateur members of the group harvest the fields all day long, gather fruits, carry wood, take care of the children, prepare the dinner, then at night they come together to rehearse at a school building. The group excludes men, so women play all the male roles themselves - with fake mustaches.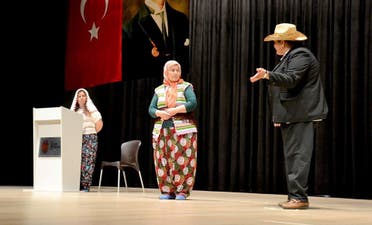 Until this year, the cast and the crew were funded by Turkey's Cultural Ministry, and now they have to look for sponsors.
Among the rural problems the group sheds light on in the plays are gambling, alcoholism, early marriages, the school dropout rate among girls and domestic violence.
"Such an experience also helps women build more equal social relations and [ensures] better communication between men and women," Kocak said.
Rural actresses also get a chance to empathize with different roles while opening up their mental horizons beyond their rural surroundings when attending the international galas.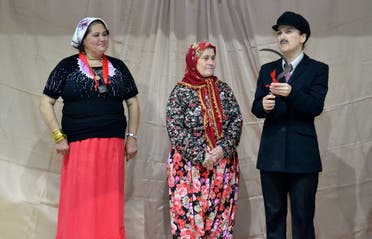 For instance, Seher Dagdur, (66), has been an active performer in the group for 15 years. She assumes all the educational costs of her granddaughter until she reaches university level in order to prevent her from dropping out of high school although she had to quit school aged 10 because her family was very poor.
Kocak has written about 15 plays since her early teens and the theatre group has performed more than 1500 times so far, reaching more than 100,000 spectators throughout the country.
"Some women in the audience start to cry and even feel faint during my plays either by thinking about themselves or their mothers who faced domestic violence or had to marry at very early ages," Kocak said.
In 2012, with the money she saved by working in the fields, Kocak wrote, directed and acted in a budget film named "Yun Bebek" (Woolen Doll) about violence against women, for which she won the Best Eurasian Actress in Cinema award at the New York Eurasian Film Festival in 2014.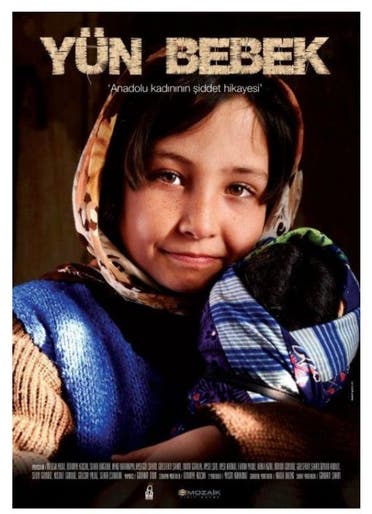 Canan Gullu, president of the Ankara-based Federation of Turkish Women's Associations, said that the magical power of this project derives from the fact that it does not ignore local traditions, but rather it combines universal trends with rural women's expectations and challenges.
"The relevant decision-makers in Ankara should further support such projects in order to sustain their transformative role on rural people," Gullu told Al Arabiya English.
Now, Kocak wants to shoot a follow-up movie to Woolen Doll if she can find a sponsor.
"In this sequel, I want to emphasize the need for extending a helping hand to rural children who don't have a chance to go to the school due to the dire financial conditions," Kocak said.
Save
Save
Save