A recent study that conducted interviews with young Muslim Arabs in 10 countires across the Middle East and North Africa found that "national identity is primary" for young arabs.
The study, released by UAE-based NGO Tabah foundation, interviewed 6,862 arab muslims between the ages of 15-33 in Libya, Tunisia, Algeria, Mauritania, Sudan, Iraq, Lebanon, Oman, Yemen, and Qatar in February and March this year.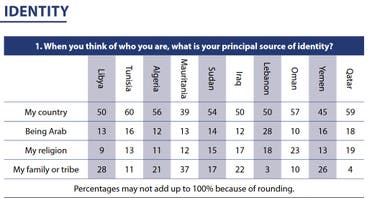 The findings showed that a large number of surveyed "millennials" say "my country" is the main source of their identity. This view was found to be strongest in Tunisia, Qatar, Oman, and Algeria.
While, "family and tribe" was found to be a significant source of identity in Mauritania and Libya, as well as in Yemen and Iraq.
Among Lebanese youth, "being Arab" was strongest while "religion" was most prevalent as a source of identity among Omanis, the report said.