Learn about the 'Stone of Ismail' and its historical link to the holy Kaaba
The "Stone of Ismail" (Hijr-Ismail) is a short wall arch forming a semi-circle separate from the northern part of the "Kaaba" and associated with it throughout its history.
There are many historical accounts about it, although there is almost a consensus among thinkers and researchers that it is part of the Kaaba and inseparable from it.
Mohieddin al-Hashemi, a researcher in the affairs of the two Holy Mosques, explained to Al Arabiya.net that "The Stone of Ismail" is part of the Kaaba, and pilgrims should circle around it instead of through it, according to many Hadiths by Prophet Mohamed.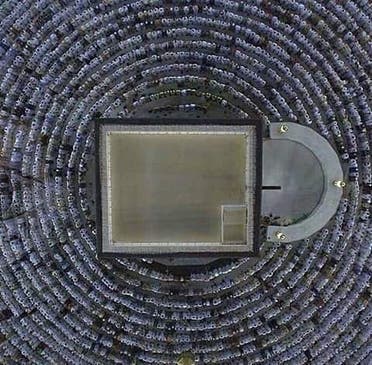 Al-Hashemi added: There are many historical sources, including the known site (Hijr- Ismail), but the most common names are "stone" and "lap" such as human lap as the rain falls through the "Mizab" on the surface of the Kaaba onto the "Hijr" area.
The walls, the pit and Ishmael's spot
Some refer to it as the "ruins" during the idol worshipping era, however, the Prophet (PBUH)) was quoted referring to it as the "wall" or "barrier." It is said that Prophet "Ibrahim" used to bring his son Ishmael and his sheep to rest there and planted Arak trees which are famous at the valleys of Mecca.
Then there is the "pit of Ismail," and the origin of this name was used before the raising of the base of the Kaaba and its structure.
The shape of the stone and Imam Malik
According to the researcher Hashemi, "al-Huttaim" (the wreckage) is famous among the Hanif group, due to its destruction and early separation from Kaaba, and said that people raise their voices in faith at this site.
Al-Hashemi said that the Caliphs reconstructed the "Stone of Ismail" until it took its current form.
During the era of the Abbasid Caliph al-Mahdi, he wanted to reattach the area to the Kaaba, but Imam Malik objected to that so it doesn't become an excuse to tamper with the construction in the future.
Today, the current extended form of Hijr-Ismail is what Prophet Mohamed (PBUH) saw and circled around.