"I was preparing to appear in a French national level competitive examination to become a Lecturer in Law in 1968 when the student revolution happened in Paris. I was active and got caught up in that."

"It was a period of great joy," says Jack Lang, France's longest-running Minister of Culture and later Minister of Education, to Al Arabiya English.

In the Arab world, Lang is a familiar personality as former minister of Culture and President of the Paris-based Arab World Institute (Institut du monde arabe), who is constantly striving to build bridges of understanding between the West and the East thought art and culture.

Lang was appointed as head of the Arab World Institute in 2013 by former French President François Hollande.

"For me 1968 was a sort of liberation or renaissance. And for me what was exciting was the happiness that comes out of sharing ideas and discussing between people."

"The world had changed, much for the better," he said in Dubai, enjoying the cool late evening at Alserkal Avenue during Galleries Night. Music and art intermingled in the atmosphere and Lang was in his element, taking in every moment and greeting everyone who came up to him with his customary smile and friendliness.
Fervent 'francophonie' supporter
At Alserkal Avenue in Al Quoz, Dubai, as Al Arabiya English caught up with him, Lang was visiting renowned French-Moroccan writer-cum-artist Tahar Ben Jelloun's painting exhibition at Galerie Nationale, which opened on March 19 and would be open till September 18.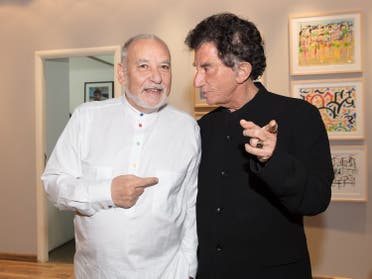 Jelloun was also at Alliance Française Dubai to present his latest autobiographical novel on the occasion of International Francophonie Day.

"He is a 'Solar Creator'", says Lang about Jelloun.

"Let the visitor judge for himself, let him come and sunbathe at these colorful works presented by the Institute of the Arab World in an exhibition entitled "J'essaie de peindre la lumière du monde" (I try to paint the light of the world). It brings together Jelloun's works on canvas and paper by comparing them with some works by artists he loves. And also confronts them with his manuscripts to say a little more about the master and his work."

Back home, Lang was the one who institutionalized the 'Fête de la Musique', an all-day public music festival which occurs yearly on June 21 in France and throughout the world.

Speaking about the events in 1968, he said, "At that time, you could not have imagined how we are now, how artistic life could be so living, so inventive and so creative like here in the Gulf and Arab countries. Of course, I am not claiming that all this is directly connected to that movement in Paris in 1968."
Exciting time for youth in the Arab world
About the Gulf and particularly about the UAE and Saudi Arabia, he commented: "I believe the present time is a very exciting time because chances are being given to young people."

Dwelling on the opening of the Louvre in Abu Dhabi and savoring the sense of achievement on both sides, he pointed out: "I am happy about Louvre Abu Dhabi because the idea for the project did not come from France. In the beginning it was Crown Prince Sheikh Mohammed bin Zayed Al Nahyan and his brother the present Foreign Minister Sheikh Abdullah bin Zayed Al Nahyan, who put forward the proposal."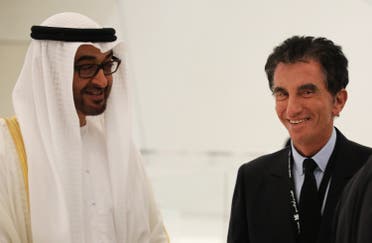 He defends his advocacy of culture as an antidote to many of the world's biggest problems. "It is obvious," he said. "The best answer to terrorism is art, culture and education." The collective intelligence among the youth in Gulf and Arab countries would resist this intolerance through culture, art and education. It is a great progress."

"The way chosen by the UAE as you can see in Abu Dhabi, Dubai and Sharjah, according to me, is a good way.

"I have considered for a long time that a unique way to change the status quo is through culture, and to bring peace, tolerance and respect."
The crisis in the Middle East
According to him the whole Middle East cannot be clubbed as one. "These are not the only factors but intervention by countries or powers of the North also participated to create problems in the region. That is the source of the problem that is centered in Libya and earlier in Iraq following the American intervention there. It is not easy to solve these issues."

These issues have led to the flow of refugees to the West, he said. "But we will welcome many refugees. These are courageous people who have overcome terrible tragedies. They are intelligent, clever and courageous and they bring to the countries of the North their energy and talent. Our duty is to welcome them."


When asked about the clash between the West and political Islam, he said: "Islam as a religion is to be respected. The separation between political power and religious authority is not an issue only for the Muslim world. This is a question posed everywhere in the world. It is not just a Western proposition or an issue that should be addressed by the Muslim world."
North Korea-Trump talks
Lang had also been a special envoy to North Korea during President Sarkozy's time and had visited Pyongyang in November 2009 to study the possibility of establishing bilateral ties and discussing the North Korean nuclear program, among other things.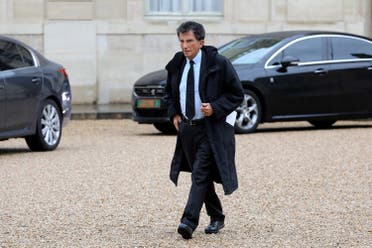 Regarding Pyongyang's recent willingness to talk with the Americans under President Donald Trump, Lang said: "I appreciate the intelligence of using South Korea to reach out to the North Korean regime and as a way to bring them to the negotiation table. But I don't know if Trump has really understood the question. Perhaps, we have to hope… it requires great vision."

"Does Trump have that vision to grasp the situation, that is the question," Lang quips.